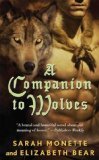 Sarah Monette and Elizabeth Bear are two new authors I have discovered this year that I feel are writing excellent stories. I really enjoyed their collaborative novel
A Companion to Wolves
(
reviewed here
)
and
have an extra copy to give away to one lucky person. Like my own copy, it is first edition hardcover and signed by Sarah Monette (sadly, it is not signed by Bear as well, but signed by Monette is still pretty cool).
The contest is open to
anyone
. If you would like to enter, send an email with the subject "A Companion to Wolves" to fantasycafe AT novomancy.org. Please include your mailing address. Addresses will only be used for sending the book out quickly and all messages will be deleted once the contest is over. If you would like to include your screen name and any message boards you frequent, feel free to do so in the email.
Entries for the contest will be accepted through Friday August 8. Good luck and thanks for entering!