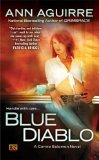 One of my most anticipated new releases of 2009 is the first book in Ann Aguirre's new Corine Solomon series, Blue Diablo. To celebrate its April 7 release, Ann Aguirre will be doing a virtual blog tour, which I'm very happy to say includes a guest post here on April 2 to give away a copy of the book to one lucky winner.
Also, don't miss the Blue Diablo Blowout run by the author herself – the grand prize is a $100 Barnes and Noble gift certificate, first runner up gets a $50 Amazon gift card, second runner up gets a $25 Lush gift card, and the third runner up gets a signed copy of Blue Diablo! If you're talented enough to make a book trailer, you could win a $250 Visa gift card.
Want to know more about this new urban fantasy from the author of Grimspace (review) and Wanderlust (review)? Below is the official blurb, and you can also read an excerpt.
Right now, I'm a redhead. I've been blonde and brunette as the situation requires, though an unscheduled color change usually means relocating in the middle of the night. So far, I'm doing well here. Nobody knows what I'm running from. And I'd like to keep it that way…

Eighteen months ago, Corine Solomon crossed the border to Mexico City, fleeing her past, her lover, and her "gift". Corine, a handler, can touch something and know its history—and sometimes, its future. Using her ability, she can find the missing—and that's why people never stop trying to find her. People like her ex, Chance…

Chance, whose uncanny luck has led him to her doorstep, needs her help. Someone dear to them both has gone missing in Laredo, Texas, and the only hope of finding her is through Corine's gift. But their search may prove dangerous as the trail leads them into a strange dark world of demons and sorcerers, ghosts and witchcraft, zombies—and black magic…
There will be several opportunities to win a copy during the blog tour. The schedule is as follows:
Guest blog & ARC giveaway at Novel Thoughts — February 25
Guest blog & ARC giveaway at Romance Bookwyrm — March 4
Guest blog & ARC giveaway at The Book Smugglers — March 11
Guest blog at Jennifer's Random Musings — March 25
Guest blog at Magical Musings — March 26
Guest blog at SciFi Chick — March 27
Guest blog at Angieville — March 30
Interview at Lurve a la Mode — March 31
Guest blog at Babbling about Books — April 1
Guest blog at Fantasy Cafe — April 2
Guest blog at Stacy's Place on Earth — April 3
Interview at Confessions of a Romance Addict — April 6
Guest blog at The Book Smugglers — April 7
Guest blog at Writer Unboxed — April 7
Interview at Cynthia Eden's blog — April 8
Guest blog at The Thrillionth Page — April 9
Guest blog at Reading Adventures — April 10
Guest blog at Urban Fantasy Land — April 13
Guest blog at The Book Binge — April 14
Guest blog at Ramblings on Romance — April 15
Guest blog at Fantasy Debut — April 16
Guest blog at The Discriminating Fangirl — April 17
Guest blog at Cubie's Confections — April 20