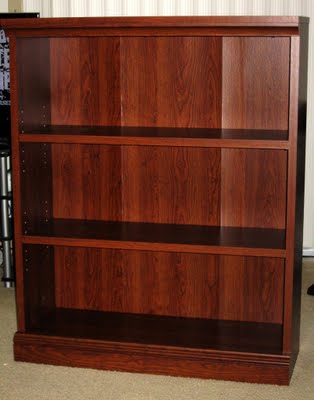 Some of you may remember that a little while ago I mentioned I would be doing a review that is a bit different. CSN Office Furniture kindly offered to donate a bookcase for me to review and how could I refuse an offer like that? I asked them for recommendations for a bookcase that was sturdy since most of my shelves are bending under the weight of all my hardcover books. They recommended me cases made by Winsome or Sauder for these purposes, and I ended up settling on the Camden County Three-Shelf Bookcase by Sauder.
I received my bookcase very promptly but did not end up getting it up immediately because it was so hot here (90F is hot in Maine, really!). It cooled down enough to assemble it last week and over the weekend I moved a bunch of my hardcover books onto it (trying to keep series and authors together but unfortunately without alphabetizing since I still have to double stack books on some shelves and now have a total of 9 bookcases scattered all throughout the apartment).
Technical Details
Planked cherry finish
Two adjustable shelves
Sturdy 1″ thick shelves and uprights
Quick and easy assembly with patented twist lock fasteners
Overall Dimensions: 44.25″ H x 36″ W x 13.875″ D
Assembly
According to my husband (who put the case together for me last week once it cooled down enough here to do more than sprawl in front of the fan), the bookcase was very easy to assemble. It required a hammer and a screwdriver and used the twist lock connectors, which don't seem as though they would be as sturdy as real cams, but when moving it around it did not seem weak or like it would come apart easily. He did tell me to make sure I added that it is frigging heavy, and I can attest to that since I helped him move it a few times.
Evaluation
With its cherry wood finish, the bookcase is definitely very nice-looking yet it is practical and holds a lot of books. It's larger, more attractive, and sturdier than any of my other bookcases (not that this is difficult since I tend to buy cheap bookcases from Target – I can't afford to be flashy with so many bookshelves). Only time will tell but with its one-inch thick shelves it is a lot hardier than my other bookcases and will hopefully hold up better under the strain of those thick books. Though calculations suggest otherwise…
To properly estimate the effects of hardcovers on a shelf over time, my husband is proposing a new unit and testing procedure known as the grrm. Based on the golden grrm value of 223 grams per linear centimeter, the center shelves which are 34″ long should be able to hold about 19.25 kg or 42.4 lbs. However, the manual that came with the shelf said the middle shelves were only rated to hold 35 lbs without bending. That suggests that even though the shelves are an inch thick, they're probably still going to end up bending if you load it with hardcovers. The bottom shelf is rated at 55 lbs so that should be all set, even if I did put my George R. R. Martin and Steven Erikson hardcovers on it. (For more information, see the exciting technical supplement detailing the grrm.)
The Camden County Three-Shelf bookcase is a lovely case that is sturdier than the cheap bookcases I normally buy (priced at approximately $100, it had better be – edit: oops, just checked and it looks like the price has increased). Even so, the middle shelves may still bend if used exclusively for hardcovers. Since the estimated weight a case may hold is often less than the actual weight, it may hold up better than expected, but I'll have to report back after some time has passed.