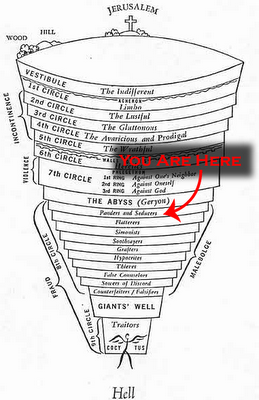 By popular demand, here is the complete list of the Bibliophile's Seven Deadly Sins:
1. Destruction
This is the BIG sin and however one destroys thine book is how they shall be repaid if they were terrible enough to go to bibliohell. Destruction includes but is not limited to burning, bending back the cover, breaking the spine, tearing out pages, staining pages, dropping the book in water, shredding pages, and running it over with a lawn mower.
2. Sloth
With all these book piles bibliophiles tend to collect, it can be very easy to get behind on one's reading by succumbing to this sin. Getting too far behind can result in drowning in the book pile, or in very extreme cases, being devoured by the mass of angry, neglected books never to be seen or heard from ever again.
3. Marking of pages
The defacing of a book with a writing implement is forbidden. The one exception to this rule is in the case of getting your books signed by the author. Therefore, I will not be confined to a single room and forced to write every single word from the Bible on the walls for all eternity for getting my copies of The Orphan's Tales duology signed by Catherynne Valente this past weekend. When writing the text, every time a mistake is made, the damned must erase everything and begin all over again.
4. Disorganization
This includes two big no-nos: alphabetical impurity and the mixing of kinds. Books by authors shall be kept together in alphabetical order with all the books in a series in the proper order. Mixing of kinds is only permitted in cases where greater sins would be committed by keeping hardcovers and paperbacks apart, such as if you have part of a series in each. Committing disorganization will lead to book filing in a library containing sentient, hyperactive books that hate to stay on the shelf forevermore.
5. Skimming
Thou shalt not skim but must read every word. Those who become distracted and miss a word must reread the same paragraph over and over until every word is caught and committed to memory – or spend their entire afterlife reading and rereading The Eye of Argon without skimming a single word.
6. Spoilage
No spoiling the best parts of books for others. The penalty for this sin is being visited by annoying imps who taunt you by telling you about what happens in all the books you never got to read before you ended up in bibliohell, especially when the new book in one of your favorite series comes out.
7. Prejudice
Do not judge a book by its cover. Or its genre. Or anything else, except perhaps, in very special circumstances, its author. A life of book prejudice will result in an eternity spent reading books with the most horrifyingly embarrassing covers in public places – without even the consolation that the contents of the book do not match its cover.