This week brought two books – one ARC and one bargain I found.  (Who can pass up a $5 trade paperback of a book they heard was good? Not me!)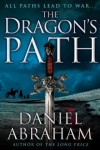 The Dragon's Path by Daniel Abraham

This is the first book in a new series by Daniel Abraham called The Dagger and the Coin.  It will be available in trade paperback on April 7.  On the same day I received the book, I also got a Spring/Summer 2011 catalog from Orbit (the publisher) and the catalog says that the other books in the series will be coming out a year apart.  It doesn't say how many books there will be, but Abraham's website lists two more titles in the series coming out after this one – The King's Blood and The Spider's War.  I liked the one other book I've read by the author as well as his stories in the Wild Cards books I've read so I'm looking forward to this one, which is "classic epic fantasy – world-building on an epic scale, and a great cast of characters" according to its entry in the catalog.  The description also sounds interesting:

Summer is the season of war in the Free Cities.
Marcus wants to get out before the fighting starts. His hero days are behind him and simple caravan duty is better than getting pressed into service by the local gentry. Even a small war can get you killed. But a captain needs men to lead — and his have been summarily arrested and recruited for their swords.
Cithrin has a job to do — move the wealth of a nation across a war zone. An orphan raised by the bank, she is their last hope of keeping the bank's wealth out of the hands of the invaders. But she's just a girl and knows little of caravans, war, and danger. She knows money and she knows secrets, but will that be enough to save her in the coming months?
Geder, the only son of a noble house is more interested in philosophy than swordplay. He is a poor excuse for a soldier and little more than a pawn in these games of war. But not even he knows what he will become of the fires of battle. Hero or villain? Small men have achieved greater things and Geder is no small man.
Falling pebbles can start a landslide. What should have been a small summer spat between gentlemen is spiraling out of control. Dark forces are at work, fanning the flames that will sweep the entire region onto The Dragon's Path — the path of war.

I had actually never heard of this novel until recently even though it won the World Fantasy Award in 1988.  I first heard about it on Calico Reaction where it is the January Dare Book.  It sounded fascinating – apparently, it is about a man who dies and gets to relive his life with the memory of all his past mistakes.  After hearing about it, I looked it up to add to my wish list and saw it just happened to be a bargain book available for only $5 so I snatched it up.  I probably won't be reading it for the January challenge since there are too many books I already want to read this month and A Fire Upon the Deep is proving to take a long time to get through, but I will read it at some point.  Has anyone else read this?  If so, what did you think of it?