This week I got the rest of my birthday books from the UK and one ARC.  The ARC is one I actually already had (Eona by Alison Goodman) and just mentioned not that long ago so I won't include a photo and description here this week. I'll be reviewing Eon, the book that precedes it, soon anyway and will hopefully be reading and reviewing Eona soon as well. Now that some of the busy events of the past couple of weeks are over, I'm hoping to get both that Eon review and the Deathless one up this week.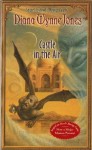 Castle in the Air by Diana Wynne Jones

This is the first sequel to Howl's Moving Castle, which I recently read and very much enjoyed.  I'm looking forward to reading it even though Sophie and Howl aren't the main characters since it sounds fun.
Abdullah was a young and not very prosperous carpet dealer. His father, who had been disappointed in him, had left him only enough money to open a modest booth in the Bazaar. When he was not selling carpets, Abdullah spent his time daydreaming. In his dreams he was not the son of his father, but the long-lost son of a prince. There was also a princess who had been betrothed to him at birth. He was content with his life and his daydreams until, one day, a stranger sold him a magic carpet.
In this stunning sequel to Howl's Moving Castle, Diana Wynne Jones has again created a large-scale, fast-paced fantasy in which people and things are never quite what they seem. There are good and bad djinns, a genie in a bottle, wizards, witches, cats and dogs (but are they cats and dogs?), and a mysterious floating castle filled with kidnapped princesses, as well as two puzzling prophecies. The story speeds along with tantalizing twists and turns until the prophecies are fulfilled, true identities are revealed, and all is resolved in a totally satisfying, breathtaking, surprise-filled ending.

A Tale of Time City by Diana Wynne Jones

This particular book is out of print in the US, which would be why my husband ended up getting a copy from the UK.  I can't find the cover I have anywhere (not even Goodreads has it and they always have my covers!), which is too bad because I think it's the nicest cover of any of them.  This is the Diana Wynne Jones book my husband thinks I should read next – it's one of the ones he already had but wanted to replace for me to read since it was so old and worn out.
Time City – built far in the future on a patch of space outside time – holds the formidable task of overseeing history, yet it's starting to decay, crumble …. What does that say for the future of the world … for the past … for the present? Two Time City boys, determined to save it all, think they have the answer in Vivian Smith, a young Twenty Century girl whom they pluck from a British train station at the start of World War II. But not only have they broken every rule in the book by traveling back in time – they have the wrong person! Unable to return safely, Vivian's only choice is to help the boys restore Time City or risk being stuck outside time forever…