Today I have a giveaway of one of my very favorite books from this year for you courtesy of Little, Brown Books – Daughter of Smoke and Bone by Laini Taylor, which will officially be released tomorrow.  I got a copy of this at this year's BEA and started reading it on the bus home because I just could not wait to read it (my review).
Laini Taylor is one of my very favorite authors, and each of her books has been better than the last. This is quite an accomplishment since the bar was already set fairly high with her first Dreamdark book, Blackbringer. Then I read Silksinger, the second Dreamdark book, and was blown away by it. Lips Touch: Three Times was even more amazing, and Daughter of Smoke and Bone as a whole is even better! I cannot recommend her books enough – the writing, the stories, the fantasy elements/mythologies, and the characters are all excellent. In particular, her writing astounds me. Laini Taylor can write like no one else – she can phrase things beautifully but poignantly and concisely. I'm thrilled more people are starting to hear her name and read her books with the release of Daughter of Smoke and Bone because she's an author who deserves more readers.
About Daughter of Smoke and Bone: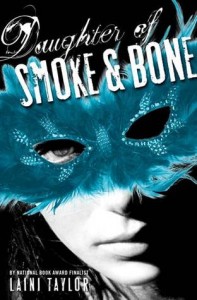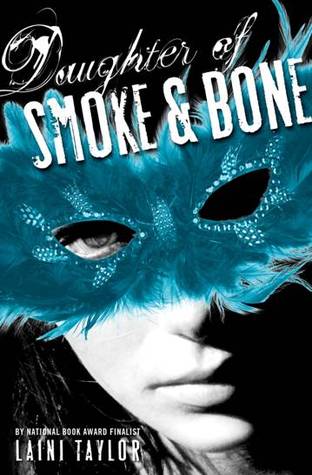 Around the world, black handprints are appearing on doorways, scorched there by winged strangers who have crept through a slit in the sky.
In a dark and dusty shop, a devil's supply of human teeth grown dangerously low.
And in the tangled lanes of Prague, a young art student is about to be caught up in a brutal otherwordly war.
Meet Karou. She fills her sketchbooks with monsters that may or may not be real; she's prone to disappearing on mysterious "errands"; she speaks many languages–not all of them human; and her bright blue hair actually grows out of her head that color. Who is she? That is the question that haunts her, and she's about to find out.
When one of the strangers–beautiful, haunted Akiva–fixes his fire-colored eyes on her in an alley in Marrakesh, the result is blood and starlight, secrets unveiled, and a star-crossed love whose roots drink deep of a violent past. But will Karou live to regret learning the truth about herself?

Giveaway Rules: To be entered in the giveaway, send an email with the subject line "Daughter of Smoke and Bone" to kristen (AT) fantasybookcafe (dot) com. One entry per person and you must be a US resident to enter (sorry to those outside the US).  The giveaway will be open until the end of the day on Saturday, October 1.  The winner has 24 hours to respond once contacted via email, and if I don't hear from them by then a new winner will be chosen (who will also have 24 hours to respond until someone gets back to me with a place to send the book).
Please note email addresses will only be used for the purpose of contacting the winner. Once the giveaway is over all the emails will be deleted.
Good luck!