This week was a balanced week – I bought two books and received two review copies. On Thursday, I went to see Catherynne M. Valente talk and ended up buying two signed books. One I already have and have already reviewed, so instead of talking about it again, I'll just direct you to my review of The Habitation of the Blessed if you want more information about it. Of course, I rather liked it since I bought a second copy signed and personalized. 😉
If you want to read about what Catherynne Valente had to say, there's a very good summary of it on Read React Review. She discussed everything from how The Girl Who Circumnavigated Fairyland in a Ship of Her Own Making came to be written to the kings of the Internet to the Singularity. It was a very interesting talk, and if you ever have the opportunity to go see Catherynne Valente speak, I very much recommend doing so.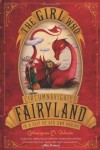 The Girl Who Circumnavigated Fairyland in a Ship of Her Own Making by Catherynne M. Valente

This was the only book available for sale that I didn't already own (not that that stopped me from getting a signed copy of one of the others anyway).  Well, technically, I do own the ebook since I snatched it when it was available for free at one point, but I'd always planned to get the hardcover copy anyway – both because I much prefer paper books and also because it sounded like this book in particular was supposed to be gorgeous.  It really is a beautiful book. I haven't read it yet, but I've thought anything I've read by Catherynne Valente is awesome so I'm willing to bet it was definitely worth getting in hardcover.
Twelve-year-old September lives in Omaha, and used to have an ordinary life, until her father went to war and her mother went to work. One day, September is met at her kitchen window by a Green Wind (taking the form of a gentleman in a green jacket), who invites her on an adventure, implying that her help is needed in Fairyland. The new Marquess is unpredictable and fickle, and also not much older than September. Only September can retrieve a talisman the Marquess wants from the enchanted woods, and if she doesn't . . . then the Marquess will make life impossible for the inhabitants of Fairyland. September is already making new friends, including a book-loving Wyvern and a mysterious boy named Saturday.  With exquisite illustrations by acclaimed artist Ana Juan, Fairyland lives up to the sensation it created when the author first posted it online. For readers of all ages who love the charm of Alice in Wonderland and the soul of The Golden Compass, here is a reading experience unto itself: unforgettable, and so very beautiful.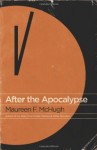 After the Apocalypse by Maureen F. McHugh

I've heard wonderful things about the writing of Maureen McHugh so when I was contacted about reviewing her new short story collection soon, I jumped at the chance. My copy is an ebook even though I don't often read them, but it will be available in paperback the first week of November (although it appears Amazon will be selling it starting the end of this month).
In her new collection, Story Prize finalist Maureen F. McHugh delves into the dark heart of contemporary life and life five minutes from now and how easy it is to mix up one with the other. Her stories are post-bird flu, in the middle of medical trials, wondering if our computers are smarter than us, wondering when our jobs are going to be outsourced overseas, wondering if we are who we say we are, and not sure what we'd do to survive the coming zombie plague.


This is a new young adult book about dragon slayers that looks rather fun. It was just released in hardcover last week, and I'll be giving away two copies tomorrow!
An excerpt is available on the publisher's website.
Dragons exist. They're ferocious. And they're smart: Before they were killed off by slayer-knights, they rendered a select group of eggs dormant, so their offspring would survive. Only a handful of people know about this, let alone believe it – these "Slayers" are descended from the original knights, and are now a diverse group of teens that includes Tori, a smart but spoiled senator's daughter who didn't sign up to save the world.
The dragon eggs have fallen into the wrong hands. The Slayers must work together to stop the eggs from hatching. They will fight; they will fall in love. But will they survive?