First of all, sorry for the lack of reviews around here lately. Unfortunately, life gets in the way sometimes. I thought the long weekend last weekend would be a great opportunity to start getting caught up, but then I got sick (and of course, read more books to review since that's about all I felt up to doing). There should be reviews this week, though, since I have a draft of a review of The Dread Hammer by Trey Shiels and have one halfway written for The Magician King by Lev Grossman.
Only one review copy to talk about this week, but it's one I'm very excited about and will be starting as soon as I finish the book I'm reading now. I also had a rather pleasant surprise…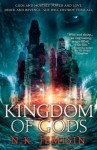 The Kingdom of Gods by N. K. Jemisin

This is the final book in the Inheritance trilogy, following The Hundred Thousand Kingdoms (review) and The Broken Kingdoms (review). The books all follow different main characters and this book is about Sieh, the trickster godling. Although the official release date is October 27th in the US, it seems to be shipping from Amazon already, and it is out in the UK. It's available in trade paperback and ebook. There are sample chapters on the author's website: Chapter One | Chapter Two | Chapter Three .
I loved the first two books, as did many others. The Hundred Thousand Kingdoms was nominated for the Nebula, World Fantasy Award, and the Hugo Award. I was pretty thrilled when this was waiting for me when I came home. It made my week when I opened it up and saw a quote from fantasybookcafe.com in the "Praise for the Inheritance Trilogy" section! It was from my review of The Broken Kingdoms. I couldn't believe it!
Here's the book blurb:
For two thousand years the Arameri family has ruled the world by enslaving the very gods that created mortalkind. Now the gods are free, and the Arameri's ruthless grip is slipping. Yet they are all that stands between peace and world-spanning, unending war.
Shahar, last scion of the family, must choose her loyalties. She yearns to trust Sieh, the godling she loves. Yet her duty as Arameri heir is to uphold the family's interests, even if that means using and destroying everyone she cares for.
As long-suppressed rage and terrible new magics consume the world, the Maelstrom — which even gods fear — is summoned forth. Shahar and Sieh: mortal and god, lovers and enemies. Can they stand together against the chaos that threatens the Kingdom of the Gods?