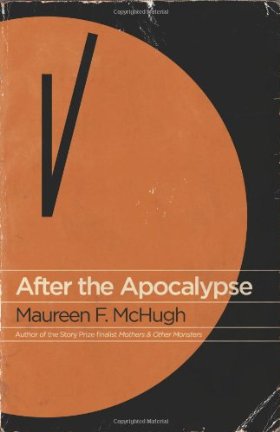 After the Apocalypse is a collection of short stories by Maureen F. McHugh. She is perhaps best known as the author of China Mountain Zhang, a nominee for both the Hugo and Nebula Awards as well as the winner of the James Tiptree Jr. Award, the Locus Award for First Novel, and the Lambda Award.
After the Apocalypse contains nine short stories, only three of which were unpublished before this book. The complete list of stories is as follows:
The Naturalist (read online)
Special Economics
Useless Things
The Lost Boy: A Reporter at Large
The Kingdom of the Blind (read online)
Going to France
Honeymoon (new story)
The Effect of Centrifugal Forces (new story)
After the Apocalypse (new story)
Some of these stories are more heavily speculative fiction than others, with most of the focus on a single character's journey. "The Naturalist" explores a zombie apocalypse from the perspective of a man struggling to survive in a prison camp, who decides his best weapon is knowledge and attempts to learn about their habits. "Going to France" briefly mentions people who can fly but is really more about the effect they have on one man when they all suddenly leave for France. In "The Kingdom of the Blind" a woman wonders if the computer program she is working on is aware and contemplates the difference between aware and alive with a coworker. My favorite story of the bunch is "After the Apocalypse," about the world after a big economic collapse, a woman's journey to Canada, and a decision she makes. It's disturbing both because the state of the world doesn't feel all that far-fetched and because of the choice made by the main character.
No matter how cataclysmic the world may be, these are some rather quiet, introspective stories, more focused on the everyday lives and internal conflicts of the characters than the major events. What we do see of these major events is through the eyes of the characters – for instance, the desperation and struggle to find food in both "The Naturalist" and "After the Apocalypse" or the effects of a devastating disease carried by chickens in "The Effect of Centrifugal Forces." "The Lost Boy: A Reporter at Large" is an article on forgetting one's identity, as shown through the story of one young man who was separated from his family after a dirty bomb went off. For five years, he lived another life, completely forgetting who he was before and where he came from and the article chronicles his story while discussing why this happens to some people.
Some of the stories did end a bit abruptly, such as "Going to France." This is a very short story that is mostly about the wish to be spontaneous and do something momentous – and then realizing it is just a nice wish and you're not going to do it. It's a very easy-to-relate to situation, but it also seemed a little pointless since it was over so quickly without much actually happening. The personal revelation that was so important to the main character was a small part of it since a lot of the story was making the decision and waiting around the airport.
It's tough for me to evaluate short stories because I'm really a novel reader at heart. I love longer stories and having time to become immersed in a different world with characters I come to care about. I love complex plots that unfold over time and learning more as I get deeper into a story. Since shorter fiction doesn't really allow for the things I love most about reading fiction, I tend to often find myself unable to really connect with it despite the fact that I like the idea of short stories. I often find myself eager to read some at the beginning, but then once I actually start I take a break and go back to a novel after one or two stories. It usually takes me forever to finish a short story book if I do at all (and a lot of time when I do finish them they tend to be connected stories following the same character instead of completely separate stories).
Although I wouldn't say I loved this collection, I think it says something about its strength that I did manage to finish it without a problem, often reading a few stories right in a row. I thought it was a very good collection of surprisingly readable, contemplative stories, and I really like the way they illustrate a character's personal journey through his/her everyday life. Rating this one is tough so I'm going to go with 7 (a good book) with the caveat that it's probably a lot better than that if you're actually a fan of shorter fiction.
My Rating: 7/10
Where I got my reading copy: Ebook review copy from the publisher.
Other Reviews: