So I am horribly behind on reviews. I read a few graphic novels last year that I'd planned to write about, and there's still a couple of books from last year that I haven't reviewed. I'm not ready to give up on those two books from last year, either, since I've reviewed previous books in the series for each and don't want a gap with an unreviewed book.
However, I am ready to give up on reviewing the rest of the books I haven't talked about this year with the exception of the one I just finished (This Is Not a Game by Walter Jon Williams). Actually, I'd only really be able to review one of those since the other book ended up being one I didn't finish, but I wanted to at least mention both of them in case anyone else was interested in looking into them further.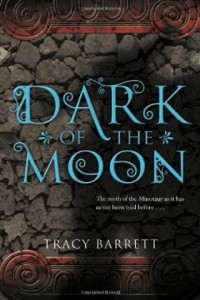 Dark of the Moon by Tracy Barrett
This is the book I did finish, and I rather liked it. I think this young adult novel is probably considered more historical fiction than fantasy, but since it is retelling a Greek myth, it fits with that theme. It reminded me of Jack Whyte's fantastic Camulod Chronicles about King Arthur in the respect that it was a more plausible version of a famous myth (although that's really all they have in common since Dark of the Moon is a fairly short stand alone book and the Camulod books are both thick and numerous).
Dark of the Moon is a retelling of the myth of the Minotaur, told from the perspective of both Ariadne and Theseus. Despite the hints in the book jacket, it does not have much romance at all but is more about Ariadne's life as a future goddess of the moon and Theseus's adventures on the way to and in Krete. It was a quick read, and I didn't love it but I did enjoy it enough to keep it around.
For more details on this book, you can read a review of Dark of the Moon at The Book Smugglers. This is actually the review that made me pick up the book, which I hadn't heard of before that.
Where I got this book: Christmas gift from books on my wishlist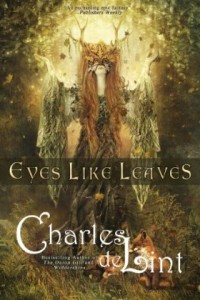 Eyes Like Leaves by Charles de Lint
While this year is the first time this was published in paperback, Eyes Like Leaves was actually one of de Lint's earliest written novels. He decided he'd rather be known as an author of contemporary fantasy than epic fantasy so he decided not to have it published when it was written.
I had high hopes for this book since it was an epic fantasy based on Celtic and Norse mythology, but when I was almost halfway through it and still finding it a struggle I gave up. It's one of those books that I didn't think was terrible but just couldn't get into. It was decently written and the mythology was well done, but it was extremely slow-paced with characters that never really came to life. The characters had potential to get better, especially since the wizards had some rather interesting powers, but I was just reading it to force myself to finish what I'd started. So I decided to call it quits and read something else.
For actual reviews by people who finished the book, you can go to io9 or The Little Red Reviewer.
Where I got this book: ARC from the publisher