Yes, that's right – even more book recommendations! Your TBR might not be able to handle them at this point, but I'm giving them anyway because I'm evil like that and want everyone to have huge TBR piles like mine. Muahahaha!
There are so many wonderful science fiction and fantasy books written by women that I could mention here. Since there have been so many great recommendations already this month, I'm going to try not to repeat the ones that have already been talked about. This is why authors such as Jacqueline Carey, Catherynne M. Valente, Lois McMaster Bujold, or any of the author guests for this event will not appear on this list in spite of also being some I would highly recommend. I've decided to focus on books and authors that I don't really see talked about that much (which is why Robin Hobb, one of my favorite fantasy authors, will also be absent from this list).
Here's some authors and books I really liked – or even loved!

Storm Constantine
Her Wraeththu trilogy and the first two Wraeththu Histories books are among my favorites ever (I have not yet read the third Histories book since then it will be ALL OVER and I will be SAD). These are character-driven books about a race of hermaphrodites created by the blood of a mutant human. They are full of character drama and relationships, but I also thought they challenged some assumptions about gender. There is some beautiful prose as well. After I was about three pages into the Wraeththu omnibus, I was riveted. I just couldn't stop reading.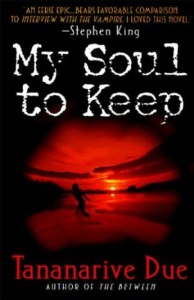 Tananarive Due
I like to see authors take risks, and that's exactly what Tananarive Due does in her first African Immortals book, My Soul to Keep. It's really dark and she makes some choices that may be too dark for some readers, but I liked seeing the unexpected and found this one really difficult to put down. (Sadly, this is another one where I need to get caught up on the rest of the series.)
C. S. Friedman
C. S. Friedman's Coldfire trilogy is pretty well known, but I don't think the two books I've read by her are talked about quite as much. Friedman's debut, In Conquest Born, is a space opera complete with warring peoples, intelligent characters, politics, and scheming. Feast of Souls, the first book in the recently completed Magister trilogy, is a dark fantasy in which magic requires a sacrifice. Both are books I very much enjoyed.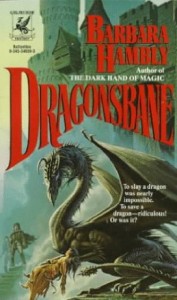 Barbara Hambly
Dragonsbane, written in the 80s, is one of those books that does wondrous things with fantasy tropes. The dragon-slayer is scholarly, and the mage is in her mid-thirties and not all that powerful. It has a brilliant bittersweet ending, and I loved the sympathetic problems Jenny had – mainly, the struggle she had with dedicating herself to her work or the one she loves and feeling that by compromising the two she's not giving enough time to either.
Sarah Monette
The Doctrine of Labyrinth series, beginning with Melusine, is another one of my favorites ever due to the way it captured the main characters. Felix and Mildmay each have such a unique voice and they're both so different yet so much alike. Like the aforementioned Wraeththu, I recommend these more to fans of character development and writing than those looking for a plot-driven, fast-paced story.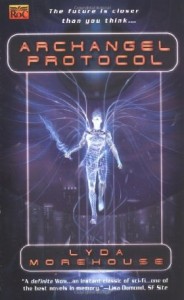 Lyda Morehouse
Archangel Protocol is one cyberpunk book that had a little bit of everything – adventure, mystery, romance, and a terrifying future scenario where there was no barrier between politics and religion at all. In fact, it's a crime not to belong to an organized religion in this world. It was fast-paced and interesting, and now I'm wondering why I still haven't read the rest of the AngelLINK series (although I know why – too many books, too little time).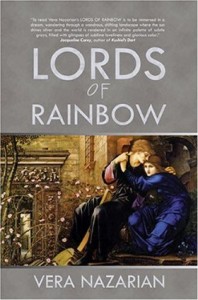 Vera Nazarian
Lords of Rainbow is epic fantasy set in a world without color. It also features a great woman warrior and has beautifully poetic prose. I've been meaning to read more by Vera Nazarian ever since reading this. (This list is making me realize how many authors I need to read MORE by.)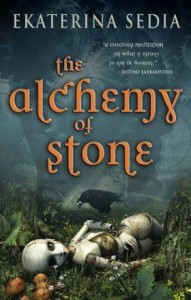 Ekaterina Sedia
The Alchemy of Stone is a steampunk book about an intelligent automaton named Mattie, who wants to be free from her creator but can't quite manage it since he's the only one who can keep her functioning. I rather liked both the prose style and the story.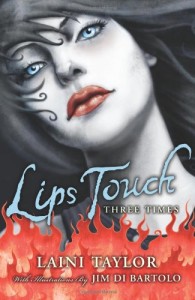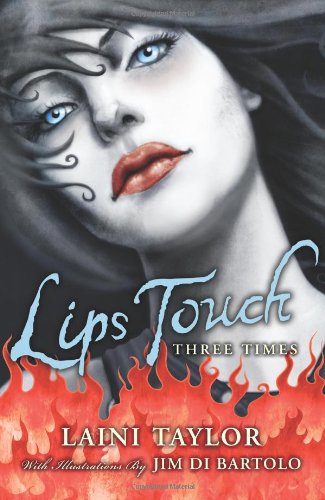 Laini Taylor
With last year's hype over Daughter of Smoke and Bone, perhaps it may seem strange to include Laini Taylor on a list of authors who haven't been talked about as much as I believe they deserve. However, she is my favorite young adult fantasy author and all of her books are wonderful. I think Lips Touch: Three Times especially deserves more readers. It's a collection of three beautifully written stories, and the last one "Hatchling" is one of my favorite stories with it's gorgeous prose and creepy premise. I mean, really, it starts with a girl who wakes up one morning and finds one of her eyes completely changed color. She soon realizes, "These weren't her memories. This wasn't her eye." (Page 145, hardcover edition) Freaky.
Joan D. Vinge
Sadly, this re-imagining of Hans Christian Andersen's "The Snow Queen" set on a planet called Tiamat is now out of print. This was one I finished with the realization that I had a new favorite, a keeper book. The culture and characters fascinated me. In spite of that, I have yet to read the direct sequel The Summer Queen (it's massive meaning I'll need a vacation to read it unless I want the blog to be quiet for a month while I do).
Freda Warrington
Elfland was another one I loved for the characters and drama. Rosie, the main character, was someone I felt was easy to relate to because she was someone who had flaws. She made mistakes, but I also understood exactly why she was making the mistakes she did. The elegant prose style also captured my attention and made me want to read more from this author.

Are there any women writing science fiction and/or fantasy that weren't mentioned this month that you want to recommend? Feel free to tell us authors and their books along with why we should read them in the comments!