The Leaning Pile of Books is a feature where I talk about books I got over the last week – old or new, bought or received for review. Since I hope you will find new books you're interested in reading in these posts, I try to be as informative as possible. If I can find them, links to excerpts, author's websites, and places where you can find more information on the book are included.
This week two review copies of books coming out later this month showed up.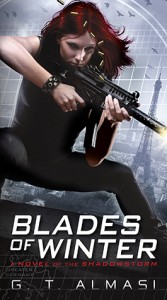 Blades of Winter (Shadowstorm #1) by G. T. Almasi

This is both a debut and the start to a new series. It will be released in paperback and ebook on August 28, and it will be followed by Hammer of Angels next spring. An excerpt from Blades of Winter is available on the publisher's website.
I've seen this one mentioned a few times and was curious about it so I was happy to find it inside the package that showed up in the mail. It sounds like a fast-paced novel and it does start with the action in the very first line:
Nothing pisses me off more than being shot at while I'm eating.
It sounds like a lot of fun:
In one of the most exciting debuts in years, G. T. Almasi has fused the intricate cat-and-mouse games of a John le Carré novel with the brash style of comic book superheroes to create a kick-ass alternate history that reimagines the Cold War as a clash of spies with biological, chemical, and technological enhancements.
Nineteen-year-old Alix Nico, a self-described "million-dollar murder machine," is a rising star in ExOps, a covert-action agency that aggressively shields the United States from its three great enemies: the Soviet Union, Greater Germany, and the Nationalist Republic of China. Rather than risk another all-out war, the four superpowers have poured their resources into creating superspies known as Levels.
Alix is one of the hottest young American Levels. That's no surprise: Her dad was America's top Level before he was captured and killed eight years ago. But when an impulsive decision explodes—literally—in her face, Alix uncovers a conspiracy that pushes her to her limits and could upset the global balance of power forever.

Wards of Faerie (The Dark Legacy of Shannara #1) by Terry Brooks

This first book in a new Shannara trilogy will be available in hardcover, ebook, and audiobook on August 21.  An excerpt from Wards of Faerie is available on the publisher's website.
The next two books in the trilogy are both scheduled for release next year: The Bloodfire Quest in March and Witch Wraith in August.
There are lots of Shannara books so if you are someone like myself who has no idea where to start you may find the reading order guide on the author's website useful. This page does state that most of the trilogies can stand alone so the guides are intended to help readers avoid spoiling themselves or get the most they can out of the books.
For information on the Wards of Faerie tour and the locations Terry Brooks will be visiting, visit this page. If he's not coming to a city near you, there will be signed copies of the book available on The Signed Page. (This is a great site. I keep an eye on it and have gotten signed copies of books from it before. Right now I'm trying not to drool over Dark Currents by Jacqueline Carey, which will also be available there.)
Seven years after the conclusion of the High Druid of Shannara trilogy, New York Times bestselling author Terry Brooks at last revisits one of the most popular eras in the legendary epic fantasy series that has spellbound readers for more than three decades.
When the world was young, and its name was Faerie, the power of magic ruled—and the Elfstones warded the race of Elves and their lands, keeping evil at bay. But when an Elven girl fell hopelessly in love with a Darkling boy of the Void, he carried away more than her heart.
Thousands of years later, tumultuous times are upon the world now known as the Four Lands. Users of magic are in conflict with proponents of science. Elves have distanced their society from the other races. The dwindling Druid order and its teachings are threatened with extinction. A sinister politician has used treachery and murder to rise as prime minister of the mighty Federation. Meanwhile, poring through a long-forgotten diary, the young Druid Aphenglow Elessedil has stumbled upon the secret account of an Elven girl's heartbreak and the shocking truth about the vanished Elfstones. But never has a little knowledge been so very dangerous—as Aphenglow quickly learns when she's set upon by assassins.
Yet there can be no turning back from the road to which fate has steered her. For whoever captures the Elfstones and their untold powers will surely hold the advantage in the devastating clash to come. But Aphenglow and her allies—Druids, Elves, and humans alike—remember the monstrous history of the Demon War, and they know that the Four Lands will never survive another reign of darkness. But whether they themselves can survive the attempt to stem that tide is another question entirely.