Today I'm happy to be participating in the blog tour for The Midnight Court by Jane Kindred! I haven't yet read this or the first book in The House of Arkhangel'sk series, The Fallen Queen, but have been very interested in these books since reading the first chapter of the first book. Read on to find out more about The Midnight Court and how to enter the international giveaway for an ebook copy of either book in this series – your choice! If you did miss the first book, here's where you can find out more about The Fallen Queen and read an excerpt.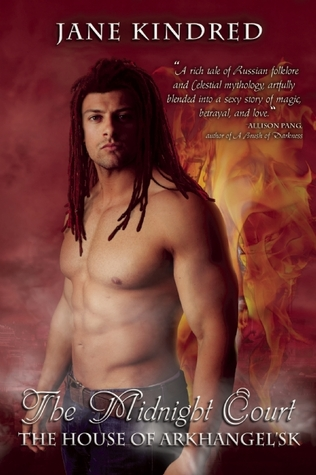 About The Midnight Court:
Against the pristine ice of Heaven, spilled blood and a demon's fire will spark celestial war.
The exiled heir to the throne of Heaven, Grand Duchess Anazakia and her demon companions, Belphagor and Vasily, have made a comfortable home in the Russian city of Arkhangel'sk, but their domestic bliss is short lived. When their daughter Ola is taken as a pawn in Heaven's demon revolution, the delicate fabric of their unorthodox family is torn apart—threatening to separate Belphagor and Vasily for good.
Anazakia is prepared to move Heaven and Earth to get her daughter back from Queen Aeval, risen in Elysium from the ashes of temporary defeat. But Aeval isn't the only one seeking Ola's strange power.
To conquer the forces amassing against them, Anazakia is prophesied to spill the blood of one close to her heart, while Vasily's fire will prove more potent than anyone suspected. In the battle for supremacy over Heaven's empire, loyalties will be tested and secrets will be revealed, but love will reign supernal.
Read an Excerpt from The Midnight Court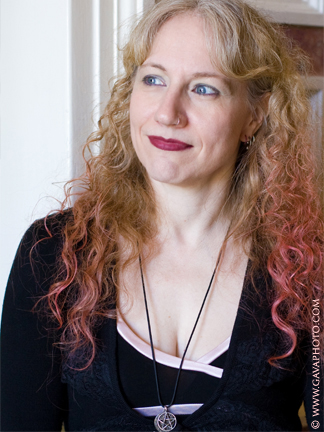 About Jane Kindred:
Jane began writing romantic fantasy novellas at the age of 12 in the wayback of a Plymouth Fury—which, as far as she recalls, never killed anyone…who didn't have it coming. Born in Billings, Montana, she was soon whisked away to Tucson, Arizona where she spent most of her childhood ruining her eyes reading romance novels in the sun and watching Star Trek marathons in the dark. Although she was repeatedly urged to learn a marketable skill in case she couldn't find a man to marry her, she received a B.A. in Creative Writing anyway from the University of Arizona.
She now lives in San Francisco with her son Samson, two feline overlords who are convinced she is constantly plotting their death, and a cockatiel named Imhotep who punishes her for sins in a past life (and whom she frequently imagines tastily smoked, dried, and splayed on a stick like omul fished from Lake Baikal).
Her pen name was inspired by the twin sister of Philip K. Dick who died shortly after their birth, and by whom he felt haunted until the end of his life.
The House of Arkhangel'sk Giveaway
Courtesy of Entangled Publishing, I have one ebook copy of The Midnight Court to give away. If you haven't read the first book in The House of Arkhangel'sk yet and win the giveaway, you can get a copy of The Fallen Queen instead. The winner will also have a choice between ePub and mobi files for the book selected.
For further opportunities to win one of these books, check out these sites on the date listed:
Sept 18 – Brazen Reads
Sept 20 – Buckeye Girl Reads
Sept 21 – Beth Yarnall
Sept 24 – Shortie Says
Sept 26 – K-Books
Sept 27 – Paranormal Urban Fantasy Reviews
Giveaway Rules: To be entered in the giveaway, fill out the form below OR send an email to kristen (AT) fantasybookcafe (DOT) com with the subject line "The Midnight Court." One entry per person. This giveaway is open to anyone from any country in the world and a winner will be randomly selected. The giveaway will be open until the end of the day on Saturday, September 29.  The winner has 24 hours to respond once contacted via email, and if I don't hear from them by then a new winner will be chosen (who will also have 24 hours to respond until someone gets back to me with which book and file type they would like).
Please note email addresses will only be used for the purpose of contacting the winner. Once the giveaway is over all the emails will be deleted.
Good luck!
Note: Now that the giveaway is over, the entry form has been removed.