The Leaning Pile of Books is a feature where I talk about books I got over the last week – old or new, bought or received for review consideration. Since I hope you will find new books you're interested in reading in these posts, I try to be as informative as possible. If I can find them, links to excerpts, author's websites, and places where you can find more information on the book are included.
This week brought a lot of books! A bunch showed up in the mail, and my husband and I bought a graphic novel for the iPad.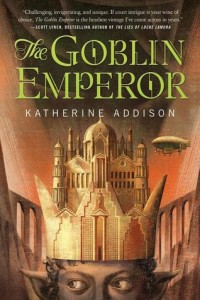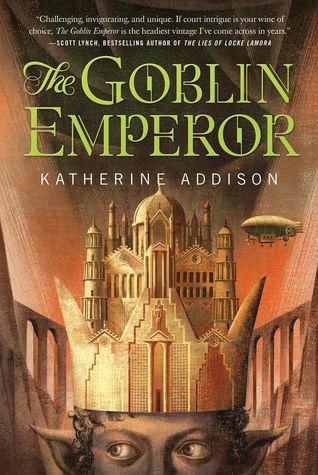 The Goblin Emperor by Katherine Addison
Words cannot express how excited I am to read this book! Katherine Addison is another name for Sarah Monette, author of The Doctrine of Labyrinth series. This is one of my favorite series ever, particularly for its excellent characterization and narrative voice. I am thrilled that she has a new novel being released, and I'm going to start reading it as soon as I finish the book I'm reading now.
The Goblin Emperor will be available on April 1 (hardcover, ebook). The first four chapters are on Tor.com.
A vividly imagined fantasy of court intrigue and dark magics in a steampunk-inflected world, by a brilliant young talent.
The youngest, half-goblin son of the Emperor has lived his entire life in exile, distant from the Imperial Court and the deadly intrigue that suffuses it. But when his father and three sons in line for the throne are killed in an "accident," he has no choice but to take his place as the only surviving rightful heir.
Entirely unschooled in the art of court politics, he has no friends, no advisors, and the sure knowledge that whoever assassinated his father and brothers could make an attempt on his life at any moment.
Surrounded by sycophants eager to curry favor with the naïve new emperor, and overwhelmed by the burdens of his new life, he can trust nobody. Amid the swirl of plots to depose him, offers of arranged marriages, and the specter of the unknown conspirators who lurk in the shadows, he must quickly adjust to life as the Goblin Emperor. All the while, he is alone, and trying to find even a single friend… and hoping for the possibility of romance, yet also vigilant against the unseen enemies that threaten him, lest he lose his throne – or his life.
This exciting fantasy novel, set against the pageantry and color of a fascinating, unique world, is a memorable debut for a great new talent.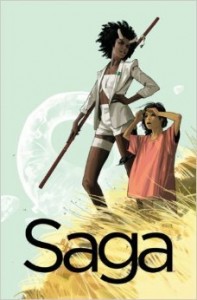 Saga, Volume 3 by Brian K. Vaughan and illustrated by Fiona Staples
I loved the first two volumes of Saga and was eagerly awaiting the next volume in April—but I was pleasantly surprised do discover the release date was actually a little earlier than I had thought! My husband told me he saw it was available, and about two minutes later we had a copy for the iPad. I read it earlier today and enjoyed it very much.
It appears that the electronic version of Volume 3 was released last week, but the paperback is scheduled for release on March 25. There is an excerpt from the first volume on Tor.com.
Winner of the 2013 Hugo award for Best Graphic Story! When two soldiers from opposite sides of a never-ending galactic war fall in love, they risk everything to bring a fragile new life into a dangerous old universe. From New York Times bestselling writer Brian K. Vaughan (Y: The Last Man, Ex Machina) and critically acclaimed artist Fiona Staples (Mystery Society, North 40), Saga is the sweeping tale of one young family fighting to find their place in the worlds. Fantasy and science fiction are wed like never before in this sexy, subversive drama for adults. In volume 3, as new parents Marko and Alana travel to an alien world to visit their hero, the family's pursuers finally close in on their targets.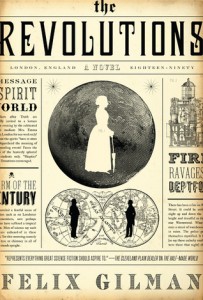 The Revolutions by Felix Gilman
The Revolutions will be released in the US on April 1 (hardcover, ebook) and in the UK in September. An excerpt can be read on Tor.com.
Following his spectacularly reviewed Half-Made World duology, Felix Gilman pens a sweeping stand-alone tale of Victorian science fiction, arcane exploration, and planetary romance.
In 1893, young journalist Arthur Shaw is at work in the British Museum Reading Room when the Great Storm hits London, wreaking unprecedented damage. In its aftermath, Arthur's newspaper closes, owing him money, and all his debts come due at once. His fiancé Josephine takes a job as a stenographer for some of the fashionable spiritualist and occult societies of fin de siècle London society. At one of her meetings, Arthur is given a job lead for what seems to be accounting work, but at a salary many times what any clerk could expect. The work is long and peculiar, as the workers spend all day performing unnerving calculations that make them hallucinate or even go mad, but the money is compelling.
Things are beginning to look up when the perils of dabbling in the esoteric suddenly come to a head: A war breaks out between competing magical societies. Josephine joins one of them for a hazardous occult exploration—an experiment which threatens to leave her stranded at the outer limits of consciousness, among the celestial spheres.
Arthur won't give up his great love so easily, and hunts for a way to save her, as Josephine fights for survival…somewhere in the vicinity of Mars.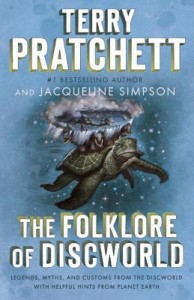 The Folklore of Discworld by Terry Pratchett and Jacqueline Simpson
The Folklore of Discworld will be on sale March 25 (paperback, ebook).  An excerpt is available on the publisher's website, including the introduction which tells of how the two authors met at one of Terry Pratchett's book signings.
OFFERING INSIGHTS INTO ALL 40 DISCWORLD NOVELS
Find out
– Why cheeses roll down hills
– The hazards of treacle mining
– What's so uncanny about the humble hare
-The origins of orcs (which are not the same as goblins!)
– Why witches come in threes
  
Legends, myths, fairytales, superstitions. Our world is full of the stories we have told ourselves about where we came from and how we got there. It is the same on Discworld, except that beings such as vampires, trolls, golems, witches and, possibly, gods, which on Earth are creatures of the imagination, are real, alive, and in some cases kicking on the Disc.
The Folklore of Discworld, coauthored by Terry Pratchett and leading British folklorist Jacqueline Simpson, is an invaluable reference for longtime Discworld fans and newcomers alike. An irreverent yet illuminating look at the living myths and folklore that are reflected, celebrated, and affectionately libeled in the uniquely imaginative universe of Discworld.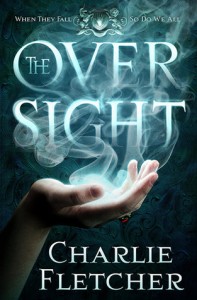 The Oversight (Oversight #1) by Charlie Fletcher
The Oversight will be released on May 6 (paperback, ebook). There is a preview of the book at io9, including the first two chapters.
Only five still guard the borders between the worlds.
Only five hold back what waits on the other side.
Once the Oversight, the secret society that policed the lines between the mundane and the magic, counted hundreds of brave souls among its members. Now their numbers can be counted on a single hand.
When a vagabond brings a screaming girl to the Oversight's London headquarters, it seems their hopes for a new recruit will be fulfilled – but the girl is a trap.
As the borders between this world and the next begin to break down, murders erupt across the city, the Oversight are torn viciously apart, and their enemies close in for the final blow.
This gothic fantasy from Charlie Fletcher (the Stoneheart trilogy) spins a tale of witch-hunters, supra-naturalists, mirror-walkers and magicians. Meet the Oversight, and remember: when they fall, so do we all.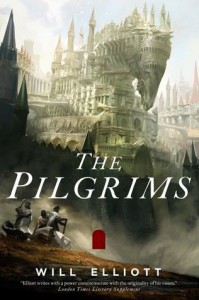 The Pilgrims (The Pendulum Trilogy #1) by Will Elliott
The Pilgrims was released on March 18 (hardcover, ebook). An excerpt is available on Tor.com.
Eric Albright is a twenty-six-year-old journalist living in London. That is to say he would be a journalist if he got off his backside. But this luckless slacker isn't all bad—he has a soft spot for his sometimes friend Stuart Casey, the homeless old drunk who mostly lives under the railway bridge near his flat. Eric is willing to let his life just drift by…until the day a small red door appears on the graffiti-covered wall of the bridge, and a gang of strange-looking people—Eric's pretty sure one of them is a giant—dash out of the door and rob the nearby newsagent. From that day on Eric and Case haunt the arch, waiting for the door to reappear.
When it does, both Eric and Case choose to go through…to the land of Levaal. A place where a mountain-sized dragon with the powers of a god lies sleeping beneath a great white castle. In the castle the sinister Lord Vous rules with an iron fist, and the Project, designed to effect his transformation into an immortal spirit, nears completion. But Vous's growing madness is close to consuming him, together with his fear of an imaginary being named Shadow. And soon Eric may lend substance to that fear. An impossibly vast wall divides Levall, and no one has ever seen what lies beyond. Eric and Casey are called Pilgrims, and may have powers that no one in either world yet understands, and soon the wall may be broken. What will enter from the other side?
Pilgrims is no ordinary alternate-world fantasy; with this first volume in The Pendulum Trilogy, Will Elliott's brilliantly subversive imagination twists the conventions of the alternate-world fantasy genre, providing an unforgettable visionary experience.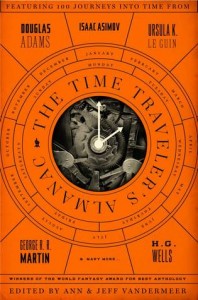 The Time Traveler's Almanac edited by Ann and Jeff VanderMeer
The Time Traveler's Almanac was released on March 18 (hardcover, paperback, ebook). The preface is available on the NPR website.
The Time Traveler's Almanac is the largest and most definitive collection of time travel stories ever assembled. Gathered into one volume by intrepid chrononauts and world-renowned anthologists Ann and Jeff VanderMeer, this book compiles more than a century's worth of literary travels into the past and the future that will serve to reacquaint readers with beloved classics of the time travel genre and introduce them to thrilling contemporary innovations.
This marvelous volume includes nearly seventy journeys through time from authors such as Douglas Adams, Isaac Asimov, Ray Bradbury, William Gibson, Ursula K. Le Guin, George R. R. Martin, Michael Moorcock, H. G. Wells, and Connie Willis, as well as helpful non-fiction articles original to this volume (such as Charles Yu's "Top Ten Tips For Time Travelers").
In fact, this book is like a time machine of its very own, covering millions of years of Earth's history from the age of the dinosaurs through to strange and fascinating futures, spanning the ages from the beginning of time to its very end. The Time Traveler's Almanac is the ultimate anthology for the time traveler in your life.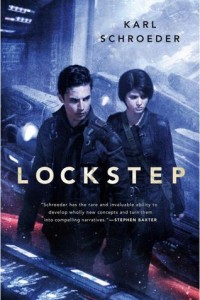 Lockstep by Karl Schroeder
Lockstep will be released on March 25 (hardcover, ebook). An excerpt can be read on Tor.com.
When seventeen-year-old Toby McGonigal finds himself lost in space, separated from his family, he expects his next drift into cold sleep to be his last. After all, the planet he's orbiting is frozen and sunless, and the cities are dead. But when Toby wakes again, he's surprised to discover a thriving planet, a strange and prosperous galaxy, and something stranger still—that he's been asleep for 14,000 years.
Welcome to the Lockstep Empire, where civilization is kept alive by careful hibernation. Here cold sleeps can last decades and waking moments mere weeks. Its citizens survive for millennia, traveling asleep on long voyages between worlds. Not only is Lockstep the new center of the galaxy, but Toby is shocked to learn that the Empire is still ruled by its founding family: his own.
Toby's brother Peter has become a terrible tyrant. Suspicious of the return of his long-lost brother, whose rightful inheritance also controls the lockstep hibernation cycles, Peter sees Toby as a threat to his regime. Now, with the help of a lockstep girl named Corva, Toby must survive the forces of this new Empire, outwit his siblings, and save human civilization.
Karl Schroeder's Lockstep is a grand innovation in hard SF space opera.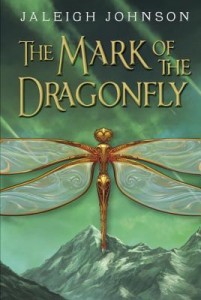 The Mark of the Dragonfly by Jaleigh Johnson
This middle grade fantasy will be released on March 25 (hardcover, ebook, audiobook). It's not the start of a series, but the author is writing a companion novel in the same world focusing on different characters. An excerpt from The Mark of the Dragonfly is available on the publisher's website.
Fans of The City of Ember will love The Mark of the Dragonfly, an adventure story set in a magical world that is both exciting and dangerous.
Piper has never seen the Mark of the Dragonfly until she finds the girl amid the wreckage of a caravan in the Meteor Fields.
The girl doesn't remember a thing about her life, but the intricate tattoo on her arm is proof that she's from the Dragonfly Territories and that she's protected by the king. Which means a reward for Piper if she can get the girl home.
The one sure way to the Territories is the 401, a great old beauty of a train. But a ticket costs more coin than Piper could make in a year. And stowing away is a difficult prospect–everyone knows that getting past the peculiar green-eyed boy who stands guard is nearly impossible.
Life for Piper just turned dangerous. A little bit magical. And very exciting, if she can manage to survive the journey.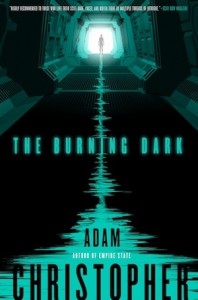 The Burning Dark (Spider War #1) by Adam Christopher
The Burning Dark will be released on March 25 (hardcover, ebook). An excerpt is available on Tor.com.
Adam Christopher's dazzling first novel, Empire State, was named the Best Book of 2012 by SciFi Now magazine. Now he explores new dimensions of time and space in The Burning Dark.
Back in the day, Captain Abraham Idaho Cleveland had led the Fleet into battle against an implacable machine intelligence capable of devouring entire worlds. But after saving a planet, and getting a bum robot knee in the process, he finds himself relegated to one of the most remote backwaters in Fleetspace to oversee the decommissioning of a semi-deserted space station well past its use-by date.
But all is not well aboard the U-Star Coast City. The station's reclusive Commandant is nowhere to be seen, leaving Cleveland to deal with a hostile crew on his own. Persistent malfunctions plague the station's systems while interference from a toxic purple star makes even ordinary communications problematic. Alien shadows and whispers seem to haunt the lonely corridors and airlocks, fraying the nerves of everyone aboard.
Isolated and friendless, Cleveland reaches out to the universe via an old-fashioned space radio, only to tune in to a strange, enigmatic signal: a woman's voice that seems to echo across a thousand light-years of space. But is the transmission just a random bit of static from the past—or a warning of an undying menace beyond mortal comprehension?