The Leaning Pile of Books is a feature where I talk about books I got over the last week – old or new, bought or received for review consideration (often unsolicited). Since I hope you will find new books you're interested in reading in these posts, I try to be as informative as possible. If I can find them, links to excerpts, author's websites, and places where you can find more information on the book are included.

Today is officially the last day of Sci-Fi November. I didn't do as much for it as I'd hoped, but I still have a review of Burndive by Karin Lowachee for it in the works that should go up in early December. Even if I didn't do as much as I wanted, it was a lot of fun, plus there were a lot of interesting posts to read as part of it. Thanks to Rinn, Asti, Kelley, and Leanne for putting it together!
On to this week's books!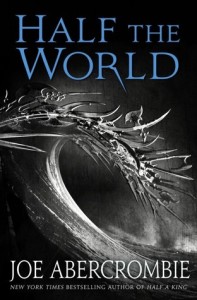 Half the World (Shattered Sea #2) by Joe Abercrombie
This middle volume in a fantasy trilogy will be released on February 17, 2015 (hardcover, ebook). I enjoyed the first book, Half a King, very much and am pretty excited about reading the next book in the series! There also will not be a long wait between the second and third book since Half a War is scheduled for release in July 2015.
New York Times bestselling author Joe Abercrombie's thrilling new series continues in the follow-up to Half a King, which George R. R. Martin hailed as "a fast-paced tale of betrayal and revenge that grabbed me from page 1 and refused to let go."
Sometimes a girl is touched by Mother War.
Thorn is such a girl. Desperate to avenge her dead father, she lives to fight. But she has been named a murderer by the very man who trained her to kill.
Sometimes a woman becomes a warrior.
She finds herself caught up in the schemes of Father Yarvi, Gettland's deeply cunning minister. Crossing half the world to find allies against the ruthless High King, she learns harsh lessons of blood and deceit.
Sometimes a warrior becomes a weapon.
Beside her on the journey is Brand, a young warrior who hates to kill, a failure in his eyes and hers, but with one chance at redemption.
And weapons are made for one purpose.
Will Thorn forever be a pawn in the hands of the powerful, or can she carve her own path?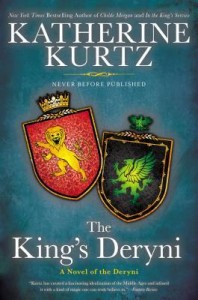 The King's Deryni (The Childe Morgan #3) by Katherine Kurtz
This fantasy novel, one of many Deryni novels and the final book in the Childe Morgan trilogy, will be released on December 2 (hardcover, ebook, audiobook).  The previous books in this trilogy are as follows:
In the King's Service
Childe Morgan
I haven't read any of the Deryni books, but I'm very interested in reading them now after looking at this one and looking them up. Even though this is a prequel to the original books, it sounds like this trilogy isn't the best place to start from some of the reviews I read. The impression I got is that I should probably start with the first of the Chronicles of the Deryni, Deryni Rising. If you've read the Deryni books, does that seem like a good starting point?
New York Times bestselling author Katherine Kurtz's novels of the Deryni have been hailed by Anne McCaffrey as "an incredible historical tapestry of a world that never was and of immensely vital people who ought to be." Now Kurtz weaves a thrilling conclusion to the epic Childe Morgan trilogy, in which bonds of both magic and loyalty will be put to the ultimate test…
Alaric Morgan always knew his purpose in life—to stand alongside the king of Gwynedd. The old king knew that whichever of his sons succeeded to the throne would benefit from having a Deryni at his side. Alaric and the young Prince Brion Haldane were bound together by magic—a magic to be called upon when Brion was most in need.
Now eighteen, Brion has ascended to the throne and seven-year-old Alaric has come to court. Through the coming years, both will grow to manhood and come to realize their destinies. Brion will strive to solidify his power and position, seek out a bride to secure his legacy, and ultimately, when faced with an unbeatable foe, call upon Alaric to fulfill his oath.
Meanwhile, Alaric slowly learns the extent of his powers and how to use them, and will face the prejudice that many have against Deryni in its ugliest form. He will experience bittersweet first love, great personal loss, and the hard lessons one gains from both. And he will be there to unleash the full power of his Deryni magic at Brion's command.
For Alaric is—and always will be—the King's Deryni.