The Leaning Pile of Books is a feature where I talk about books I got over the last week – old or new, bought or received for review consideration (often unsolicited). Since I hope you will find new books you're interested in reading in these posts, I try to be as informative as possible. If I can find them, links to excerpts, author's websites, and places where you can find more information on the book are included.
This week brought a few books, including a couple I've already covered. In case you've been waiting for them (or missed them), here are some links to read more about them:
On to this week's books!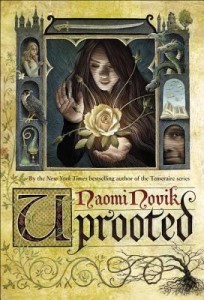 Uprooted by Naomi Novik
This fantasy novel will be on sale on May 19 in the US and May 21 in the UK (hardcover, ebook). An excerpt from Uprooted can be read on Tor.com.
Naomi Novik is the New York Times bestselling author of the Temeraire series (starting with His Majesty's Dragon) and the graphic novel Will Supervillains Be on the Final? She has also won the John W. Campbell Award for Best New Writer, the Locus Award for Best New Writer, and the Compton Crook Award for Best First Novel, plus His Majesty's Dragon was nominated for the Hugo Award for Best Novel.
Uprooted sounds amazing, and it is easily one of my most anticipated books of 2015!
Naomi Novik, author of the bestselling and critically acclaimed Temeraire novels, introduces a bold new world rooted in folk stories and legends, as elemental as a Grimm fairy tale.
"Our Dragon doesn't eat the girls he takes, no matter what stories they tell outside our valley. We hear them sometimes, from travelers passing through. They talk as though we were doing human sacrifice, and he were a real dragon. Of course that's not true: he may be a wizard and immortal, but he's still a man, and our fathers would band together and kill him if he wanted to eat one of us every ten years. He protects us against the Wood, and we're grateful, but not that grateful."
Agnieszka loves her valley home, her quiet village, the forests and the bright shining river. But the corrupted Wood stands on the border, full of malevolent power, and its shadow lies over her life.
Her people rely on the cold, driven wizard known only as the Dragon to keep its powers at bay. But he demands a terrible price for his help: one young woman handed over to serve him for ten years, a fate almost as terrible as falling to the Wood.
The next choosing is fast approaching, and Agnieszka is afraid. She knows—everyone knows—that the Dragon will take Kasia: beautiful, graceful, brave Kasia, all the things Agnieszka isn't, and her dearest friend in the world. And there is no way to save her.
But Agnieszka fears the wrong things. For when the Dragon comes, it is not Kasia he will choose.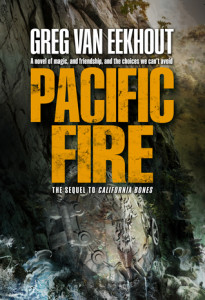 Pacific Fire (Daniel Blackland #2) by Greg van Eekhout
This sequel to California Bones is available now (hardcover, ebook). An excerpt from Pacific Fire can be read on Tor.com.
Greg van Eekhout is also the author of Norse Code and the MG novels Kid vs. Squid and The Boy at the End of the World, an Andre Norton Award finalist.
Pacific Fire: Another thrilling ride through Greg van Eekhout's wildly imaginative world of California Bones, featuring entertaining new characters and a dangerous magical plot unfolding in Los Angeles.
I'm Sam. I'm just this guy.
Okay, yeah, I'm a golem created from the substance of his own magic by the late Hierarch of Southern California. With a lot of work, I might be able to wield magic myself. I kind of doubt it, though. Not like Daniel Blackland can.
Daniel's the reason the Hierarch's gone and I'm still alive. He's also the reason I've lived my entire life on the run. Ten years of never, ever going back to Los Angeles. Daniel's determined to protect me. To teach me.
But it gets old. I've got nobody but Daniel. I'll never do anything normal. Like attend school. Or date a girl.
Now it's worse. Because things are happening back in LA. Very bad people are building a Pacific firedrake, a kind of ultimate weapon of mass magical destruction.  Daniel seemed to think only he could stop them. Now Daniel's been hurt. I managed to get us to the place run by the Emmas. (Many of them. All named Emma. It's a long story.) They seem to be healing him, but he isn't going anyplace soon.
Do I even have a reason for existing, if it isn't to prevent this firedrake from happening? I'm good at escaping from things. Now I've escaped from Daniel and the Emmas, and I'm on my way to LA.
This may be the worst idea I ever had.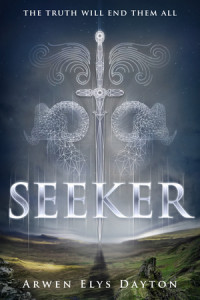 Seeker (Seeker #1) by Arwen Elys Dayton
Seeker, the first book in a young adult trilogy, is available now (hardcover, ebook, audiobook). The second book, Traveler, is scheduled for release in spring 2016.
An excerpt from Seeker can be read on Suvudu. Arwen Elys Dayton will be visiting Minnesota, Illinois, New Jersey, and New York as part of her book tour. Check out the event schedule to see if she's coming to a city near you!
Even though the book was just released, it has already been optioned for film.
The night Quin Kincaid takes her Oath, she will become what she has trained to be her entire life. She will become a Seeker. This is her legacy, and it is an honor.
As a Seeker, Quin will fight beside her two closest companions, Shinobu and John, to protect the weak and the wronged. Together they will stand for light in a shadowy world.
And she'll be with the boy she loves–who's also her best friend.
But the night Quin takes her Oath, everything changes.
Being a Seeker is not what she thought. Her family is not what she thought. Even the boy she loves is not who she thought.
And now it's too late to walk away.