The Leaning Pile of Books is a feature where I talk about books I got over the last week – old or new, bought or received for review consideration (often unsolicited). Since I hope you will find new books you're interested in reading in these posts, I try to be as informative as possible. If I can find them, links to excerpts, author's websites, and places where you can find more information on the book are included.
There are two books to discuss this week since the third book that showed up has already been discussed here.
For book reviews, I'm currently working on reviewing Uprooted by Naomi Novik, which is my very favorite book of 2015 so far. When I first head about it, I thought it sounded like my type of book and this did indeed turn out to be the case!
On to this week's books!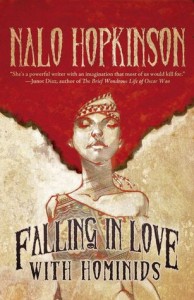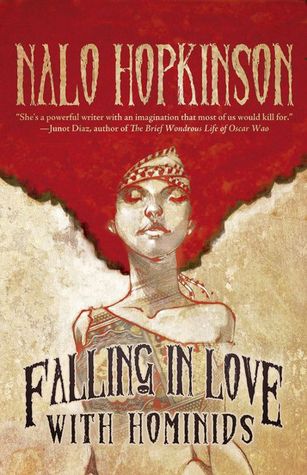 Falling in Love with Hominids by Nalo Hopkinson
This short story collection will be available on August 15 (trade paperback, ebook).  The complete table of contents from Falling in Love with Hominids can be viewed on the publisher's website.
I really enjoyed Nalo Hopkinson's novel Sister Mine and have been wanting to read more of her work so I'm quite curious about this one!
From the the groundbreaking author of the New York Times Notable Book Midnight Robber, comes over a dozen years of new, uncollected fiction.
Nalo Hopkinson (Brown Girl in the Ring, The New Moon's Arms) is an internationally-beloved storyteller. Hailed by the Los Angeles Times as having "an imagination that most of us would kill for," her Afro-Caribbean, Canadian, and American influences shine in truly unique stories that are filled with striking imagery, unlikely beauty, and delightful strangeness.
In this long-awaited collection, Hopkinson continues to expand the boundaries of culture and imagination. Whether she is retelling The Tempest as a Caribbean myth, filling a shopping mall with unfulfilled ghosts, or creating chickens that occasionally breathe fire, Hopkinson continues to create bold fiction that transcends boundaries and borders.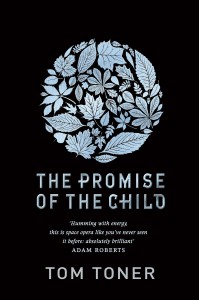 The Promise of the Child (Amaranthine Spectrum #1) by Tom Toner
This space opera debut will be released in September in the US (hardcover) and November in the UK (paperback, ebook).
Lycaste is a lovesick recluse living in a forgotten Mediterranean cove who is renowned throughout the distorted people of the Old World for his beauty. Sotiris Gianakos is a 12,000-year-old Cypriote grieving the loss of his sister, a principled man who will change Lycaste's life forever. Their stories, and others, become darkly entwined when Aaron the Longlife—the Usurper, a man who is not quite a man—makes a claim to the Amaranthine throne that threatens to throw the delicate political balance of the known galaxy into ruin.
The Promise of the Child is a stunning feat of imagination set against an epic backdrop ranging from 14th-century Prague, to a lonely cove near the Mediterranean Sea, to the 147th-century Amaranthine Firmament. Toner has crafted an intelligent space opera filled with gripping action and an emotional scale that is wonderfully intimate, a smart and compelling debut that calls to mind the best of Kim Stanley Robinson or M. John Harrison.