The Leaning Pile of Books is a feature where I talk about books I got over the last week–old or new, bought or received for review consideration (usually unsolicited). Since I hope you will find new books you're interested in reading in these posts, I try to be as informative as possible. If I can find them, links to excerpts, author's websites, and places where you can find more information on the book are included.
After getting caught up last weekend, I'm back on track so this just covers books from the last week.
In case you missed it, I posted two reviews discussing four books last week:
Now, the latest books!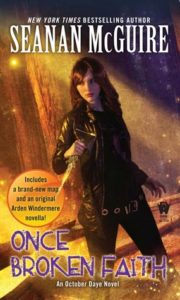 Once Broken Faith (October Daye #10) by Seanan McGuire
The tenth book in the October Daye series will be released on September 6 (mass market paperback, ebook). It also includes a new novella about Arden Windermere, "Dreams and Slumbers."
October Daye is one of my favorite urban fantasy series, and I especially love books 4-6. The books in the series are as follows:
Rosemary and Rue (my review)
A Local Habitation (my review)
An Artificial Night (my review)
Late Eclipses (my review)
One Salt Sea (my review)
Ashes of Honor (my review)
Chimes at Midnight (my review)
The Winter Long (my review)
A Red-Rose Chain
Politics have never been October "Toby" Daye's strong suit. When she traveled to the Kingdom of Silences to prevent them from going to war with her home, the Kingdom of the Mists, she wasn't expecting to return with a cure for elf-shot and a whole new set of political headaches.
Now the events she unwittingly set in motion could change the balance of modern Faerie forever, and she has been ordered to appear before a historic convocation of monarchs, hosted by Queen Windermere in the Mists and overseen by the High King and Queen themselves.
Naturally, things have barely gotten underway when the first dead body shows up. As the only changeling in attendance, Toby is already the target of suspicion and hostility. Now she needs to find a killer before they can strike again—and with the doors locked to keep the guilty from escaping, no one is safe.
As danger draws ever closer to her allies and the people she loves best, Toby will have to race against time to prevent the total political destabilization of the West Coast and to get the convocation back on track…and if she fails, the cure for elf-shot may be buried forever, along with the victims she was too slow to save.
Because there are worse fates than sleeping for a hundred years.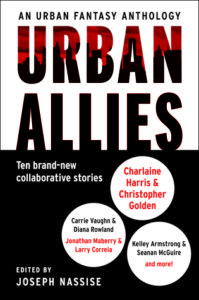 Urban Allies edited by Joseph Nassise
This urban fantasy anthology containing ten stories will be released on July 26 (trade paperback, ebook). Two authors collaborated on each story, featuring characters from both authors' books. For example, "Tailed" by Seanan McGuire and Kelley Armstrong is about both Verity Price from InCryptid and Elena Michaels from Otherworld.
In this impressive anthology, 20 of today's hottest urban fantasy writers—including Charlaine Harris, Jonathan Maberry, Kelley Armstrong, Larry Correia, and C. E. Murphy—are paired together in ten original stories featuring their favorite series characters.
Urban Allies brings together beloved characters from two different urban fantasy series—Peter Octavian and Dahlia Lynley-Chivers, Joanne Walker and Harper Blaine, Joe Ledger and Agent Franks, Sabina Kane and Ava—in ten electrifying stories. Combining fictional worlds in one dual adventure, each of these stories melds the talents of two high-profile authors, many working together for the first time—giving readers a chance to see their favorite characters in an imaginative and fresh way.
Edited by acclaimed bestselling author Joseph Nassise—who is also a contributor—this outstanding collection showcases the brilliant storytelling talents of some of the most acclaimed fantasy writers working today, among them seven New York Times bestselling authors, two USA Today bestselling authors, and multiple Bram Stoker Award winners.
Contributors include:
Charlaine Harris and Christopher Golden • Carrie Vaughn and Diana Rowland • Jonathan Maberry and Larry Correia • Kelley Armstrong and Seanan McGuire • Joe Nassise and Sam Witt • Steven Savile and Craig Schaefer • David Wellington and Weston Ochse • Stephen Blackmoore and Jeff Somers • Catie Murphy and Kat Richardson • Jaye Wells and Caitlin Kittredge

Additional Book(s):