Since the last couple of Patreon book selections were fairly recent, the August book poll theme was science fiction and fantasy from the '70s and '80s. The choices were as follows:
The August book is…
Forerunner by Andre Norton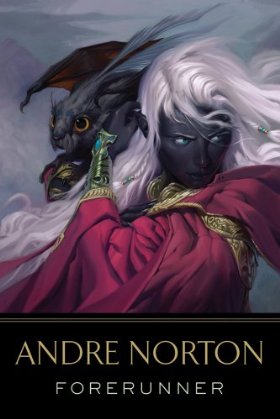 Andre Norton was one of the best known writers of science fiction in the genre's history, and the subject of especially fervent loyalty and enthusiasm. One of her greatest triumphs is the Forerunner series, which has earned a place of legend among fans with such books as The Time Traders, The Galactic Derelict, Sargasso of Space, and many more. Forerunner is the definitive novel in that series. It also holds a special place in the history of Tor, as it is the first book Tor ever published.

"Kuxortal has always been," Forerunner begins. This ancient port was established in the time of antiquity and has built and rebuilt itself on the ruins of former civilizations. Kuxortal is inhabited by a lowly race of Burrowers, who tunnel and excavate beneath the city's towers and sometimes discover artifacts from the past. Simsa is a Burrower who has spent her entire life in the service of an older, crippled mentor, Ferwar, who had reputedly rescued Simsa from a trash heap when she was an infant. Simsa, with her blue-black skin and platinum hair, clearly comes from different stock than the other Burrowers, but Ferwar never revealed her origin.

When scavengers attempt to loot the treasures that Ferwar had left behind, it becomes clear that Simsa must flee. Especially when they discover that the scavengers consider Simsa one of the treasures that they have come to steal….