The Leaning Pile of Books is a feature where I discuss books I got over the last week—old or new, bought or received in the mail for review consideration (most of which are unsolicited books from publishers). Since I hope you will find new books you're interested in reading in these posts, I try to be as informative as possible. If I can find them, links to excerpts, author's websites, and places where you can find more information on the book are included.
It's been a while since the last one of these features since last month was dedicated to featuring wonderful guest posts for Women in SF&F Month 2019. (If you missed it, that link goes to a page with all the information you should need to catch up!)
It would take forever to cover all the books that have come in since then, so I'm just going to cover some of the highlights this weekend and next, starting with five arrivals from the last month or so.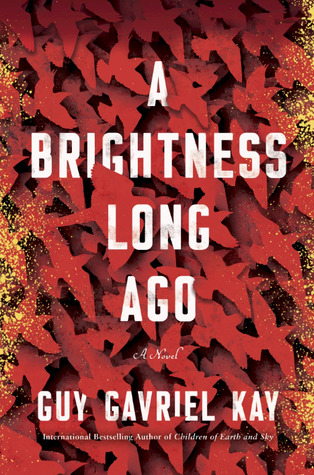 A Brightness Long Ago by Guy Gavriel Kay
Guy Gavriel Kay's next novel, set in a world inspired by Renaissance Italy, will be released on May 14 (hardcover, ebook, audiobook).
Penguin Random House Canada has an excerpt from A Brightness Long Ago, and Penguin Random House has a schedule for some upcoming US tour events (at the moment, they are in Seattle and San Francisco).
I've been looking forward to this one since Guy Gavriel Kay has written some novels I'm particularly fond of—including River of Stars, which I was fortunate enough to ask him some questions about in an interview in 2013.
International bestselling author Guy Gavriel Kay's latest work is set in a world evoking early Renaissance Italy and offers an extraordinary cast of characters whose lives come together through destiny, love, and ambition.
In a chamber overlooking the nighttime waterways of a maritime city, a man looks back on his youth and the people who shaped his life. Danio Cerra's intelligence won him entry to a renowned school even though he was only the son of a tailor. He took service at the court of a ruling count—and soon learned why that man was known as the Beast.
Danio's fate changed the moment he saw and recognized Adria Ripoli as she entered the count's chambers one autumn night—intending to kill. Born to power, Adria had chosen, instead of a life of comfort, one of danger—and freedom. Which is how she encounters Danio in a perilous time and place.
Vivid figures share the unfolding story. Among them: a healer determined to defy her expected lot; a charming, frivolous son of immense wealth; a powerful religious leader more decadent than devout; and, affecting all these lives and many more, two larger-than-life mercenary commanders, lifelong adversaries, whose rivalry puts a world in the balance.
A Brightness Long Ago offers both compelling drama and deeply moving reflections on the nature of memory, the choices we make in life, and the role played by the turning of Fortune's wheel.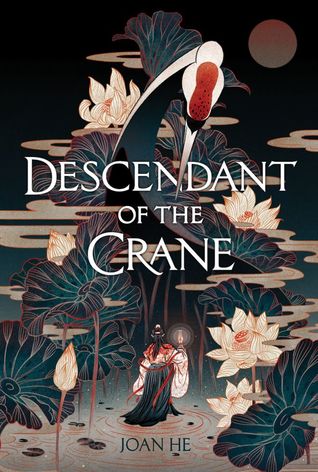 Descendant of the Crane by Joan He
Joan He's debut novel was released last month (hardcover, ebook). NPR has an excerpt from Descendant of the Crane.
This is another book I've been looking forward to for a while. I'm about halfway through it right now, and so far, it's quite good—prettily written with truth as a major theme.
It's also a beautiful book, and the copy I pre-ordered came with a lovely bookmark and some character cards. (I did take some photos of these for Twitter!)
Tyrants cut out hearts. Rulers sacrifice their own. Princess Hesina of Yan has always been eager to shirk the responsibilities of the crown, but when her beloved father is murdered, she's thrust into power, suddenly the queen of an unstable kingdom. Determined to find her father's killer, Hesina does something desperate: she enlists the aid of a soothsayer—a treasonous act, punishable by death… because in Yan, magic was outlawed centuries ago.
Using the information illicitly provided by the sooth, and uncertain if she can trust even her family, Hesina turns to Akira—a brilliant investigator who's also a convicted criminal with secrets of his own. With the future of her kingdom at stake, can Hesina find justice for her father? Or will the cost be too high?
In this shimmering Chinese-inspired fantasy, debut author Joan He introduces a determined and vulnerable young heroine struggling to do right in a world brimming with deception.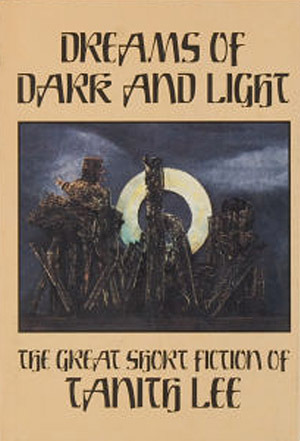 Dreams of Dark and Light: The Great Short Fiction of Tanith Lee
Dreams of Dark and Light is out of print, so I was thrilled to get a copy of it for my birthday last month! I want to read more by Tanith Lee, and I've wanted to read this book in particular since T. Frohock recommended it as being an especially good collection of her short fiction.
Tanith Lee today is one of the most versatile and respected writers of fantasy, horror, and science fiction, and DREAMS OF DARK AND LIGHT represents a massive mid-career retrospective of her achievements over the previous decade.
Here are unforgettable tales of werewolves that prowl chateaux, an Earthwoman in exile on a distant planet, demons that inhabit bodies of the living dead, a race of vampiric creatures who prey upon a cursed castle, and many other works of exotic vision, mythic science fiction, and contemporary horror. Also included are two stories that have received the World Fantasy Award, "Elle est Trois, (La Mort)" and "The Gorgon," making DREAMS OF DARK AND LIGHT a distinguished one volume library of myth-weaving at its most eloquent and evocative.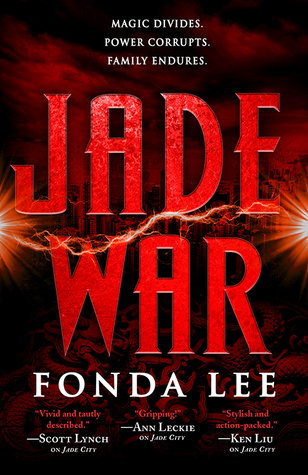 Jade War (The Green Bone Saga #2) by Fonda Lee
Jade War will be released on July 23 (hardcover, ebook, audiobook).
Jade City, the first book in The Green Bone Saga, won World Fantasy and Aurora Awards and was a Nebula Award finalist. The publisher's website has an excerpt from Jade City, and the author's website has some extras and an audiobook sample.
I am curious to find out where this series goes next after Jade City (which I reviewed here).
In Jade War, the sequel to the World Fantasy Award-winning novel Jade City, the Kaul siblings battle rival clans for honor and control over an Asia-inspired fantasy metropolis.
On the island of Kekon, the Kaul family is locked in a violent feud for control of the capital city and the supply of magical jade that endows trained Green Bone warriors with supernatural powers they alone have possessed for hundreds of years.
Beyond Kekon's borders, war is brewing. Powerful foreign governments and mercenary criminal kingpins alike turn their eyes on the island nation. Jade, Kekon's most prized resource, could make them rich – or give them the edge they'd need to topple their rivals.
Faced with threats on all sides, the Kaul family is forced to form new and dangerous alliances, confront enemies in the darkest streets and the tallest office towers, and put honor aside in order to do whatever it takes to ensure their own survival – and that of all the Green Bones of Kekon.
Jade War is the second book of the Green Bone Saga, an epic trilogy about family, honor, and those who live and die by the ancient laws of blood and jade.
The Green Bone Saga
Jade City
Jade War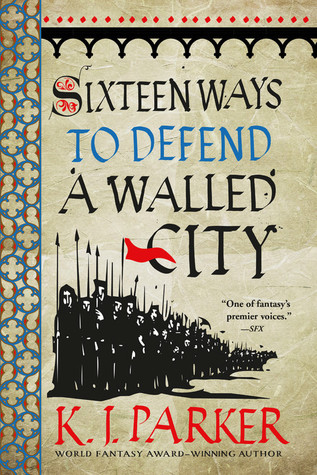 Sixteen Ways to Defend a Walled City by K. J. Parker
The latest novel by K. J. Parker came out last month (trade paperback, ebook). The publisher's website has an excerpt from Sixteen Ways to Defend a Walled City.
K. J. Parker's new novel is the remarkable tale of the siege of a walled city, and the even more remarkable man who had to defend it.
A siege is approaching, and the city has little time to prepare. The people have no food and no weapons, and the enemy has sworn to slaughter them all.
To save the city will take a miracle, but what it has is Orhan. A colonel of engineers, Orhan has far more experience with bridge-building than battles, is a cheat and a liar, and has a serious problem with authority. He is, in other words, perfect for the job.
Sixteen Ways To Defend a Walled City is the story of Orhan, son of Siyyah Doctus Felix Praeclarissimus, and his history of the Great Siege, written down so that the deeds and sufferings of great men may never be forgotten.