The Leaning Pile of Books is a feature where I discuss books I got over the last week—old or new, bought or received in the mail for review consideration (most of which are unsolicited books from publishers). Since I hope you will find new books you're interested in reading in these posts, I try to be as informative as possible. If I can find them, links to excerpts, author's websites, and places where you can find more information on the book are included.
Last week brought one book I'm very excited about (photo of the book next to Lying Cat), but first, here's last week's review in case you missed it:
And now, book mail!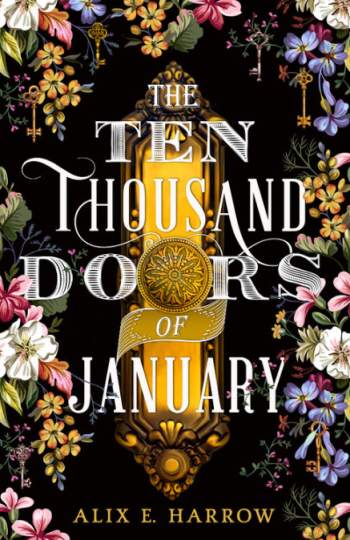 The Ten Thousand Doors of January by Alix E. Harrow
Hugo and Nebula Award–nominated author Alix E. Harrow's debut novel will be released on September 10 in the US and September 12 in the UK (hardcover, ebook, audiobook).
Orbit has a brief excerpt from The Ten Thousand Doors of January in their acquisition announcement.
Alix E. Harrow also wrote a guest post for this year's Women in SF&F Month:
In Catherynne Valente's The Girl Who Circumnavigated Fairyland in a Ship of Her Own Making, September is sent on a quest to find a magical casket and take up her mother's sword. But when she opens the casket she doesn't find a sword—she finds a wrench, because her mother is a mechanic. If it were me opening that casket in the Worsted Woods of Fairyland, I would find a library.
You can read the rest of "My Mother's Sword" here.
In the early 1900s, a young woman searches for her place in the world after finding a mysterious book in this captivating, lyrical debut.
In a sprawling mansion filled with peculiar treasures, January Scaller is a curiosity herself. As the ward of the wealthy Mr. Locke, she feels little different from the artifacts that decorate the halls: carefully maintained, largely ignored, and utterly out of place.
Then she finds a strange book. A book that carries the scent of other worlds, and tells a tale of secret doors, of love, adventure and danger. Each page turn reveals impossible truths about the world and January discovers a story increasingly entwined with her own.
The Ten Thousand Doors of January is a spellbinding tale of unforgettable love, impossible journeys, and the power of stories to lead to worlds never imagined.

Additional Books: