Hope everybody had a good week!  I am back after being at Book Expo America (BEA) and the Book Blogger Convention.  Because of this, I have a whole bunch of books I could add here, but I've decided to do books from BEA in a separate post. I'm also going to talk about some books in some of the fall catalogs I picked up while I was there in a separate post.  So for now I'm just going to list the two review copies that came in the mail this week, and I'll tell you about what's out/coming out that I got at BEA later.  (I'm already almost done with my first book from BEA, Laini Taylor's Daughter of Smoke and Bone which I am so thrilled about reading!  I was second in line for the signed copy of this ARC – I wanted it sooooo much!  But that's all I'm saying about BEA books for now!)
When I get back to writing reviews, I'll be writing about Eona by Alison Goodman and Song of Scarabaeus by Sara Creasy.
On to the books with more to come later!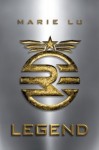 Legend by Marie Lu

This book was actually at BEA and I missed it, but that's ok because a copy was waiting for me when I got home.  It's a YA dystopia, which is pretty popular at the moment.  The letter from the publisher that came with it is so full of enthusiasm that I'm really curious about it.  It's a book she couldn't put down when she read the manuscript, and she was so excited about it that she shared it with all her colleagues who then also got excited about it.  It is part of a series, but I didn't find any information on how many books there would be.  Legend will be released in hardcover on November 29, and it will also be available as an ebook and audiobook.  An excerpt is available online.
What was once the western United States is now home to the Republic, a nation perpetually at war with its neighbors. Born into an elite family in one of the Republic's wealthiest districts, fifteen-year-old June is a prodigy being groomed for success in the Republic's highest military circles. Born into the slums, fifteen-year-old Day is the country's most wanted criminal. But his motives may not be as malicious as they seem.
From very different worlds, June and Day have no reason to cross paths – until the day June's brother, Metias, is murdered and Day becomes the prime suspect. Caught in the ultimate game of cat and mouse, Day is in a race for his family's survival, while June seeks to avenge Metias's death. But in a shocking turn of events, the two uncover the truth of what has really brought them together, and the sinister lengths their country will go to keep its secrets.
Full of nonstop action, suspense, and romance, this novel is sure to move readers as much as it thrills.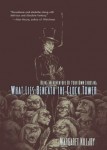 What Lies Beneath the Clock Tower by Margaret Killjoy

What Lies Beneath the Clock Tower: Being an Adventure of Your Own Choosing is a steampunk choose-your-own adventure style story by the founder of SteamPunk Magazine.  The quote from Alan Moore, author of Watchmen, is what sold me when I was asked about receiving a copy for review consideration, but I also like the quote on the back:
"As I aspire to be a drunken and feckless adventurer myself, I felt great kinship with Our Hero Gregory." – Jake von Slatt
It sounds like a fun book and it's also fairly short (less than 200 pages). It will be available on June 17.
Descend into the depths of the undercity and embroil yourself in the political struggles of colonialist gnomes and indigenous goblins. Fly in air balloons, drink mysterious and pleasant cocktails, smoke opium with the dregs of gnomish society. Or dream and speak of liberation for all the races. Fall in love and abscond into the caverns. It s up to you, because this is an adventure of your own choosing. From the founder of SteamPunk Magazine and editor of Mythmakers & Lawbreakers (AK Press, 2009) comes this interactive novel of danger, drugs, and revolution.