This week's edition of books added to the leaning pile brought 1 review copy and 1 book I had pre-ordered.  Oh happy week as the latter was one of my most anticipated reads of the year (and yes, I've already finished it and will probably start working on the review today so hopefully there will be a review of both Song of Scarabaeus by Sara Creasy and that book next week).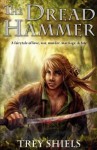 The Dread Hammer by Trey Shiels

Trey Shiels is the pen name of Linda Nagata, who has written science fiction under her own name.  Two of these scifi works have won awards – The Bohr Maker won the Locus Award for Best First Novel in 1996 and "Goddesses" won the Nebula Award for Best Novella in 2000.  She has been re-releasing some of these books through Mythic Island Press, which she founded last year, and has also recently released her first fantasy book, The Dread Hammer.  It is available both in paperback and ebook (the Kindle version is only $2.99), and an excerpt is available online.
The Dread Hammer looks like a fun book, and I like the sound of a "darkly comic fairytale."
Ketty is a pretty shepherdess with a contrary nature, who runs away from home to escape an unwanted marriage. As she flees along the forest road, she prays to the Dread Hammer for help-and to her astonishment help comes in the form of a charming and well-armed young murderer named Smoke. As Ketty soon discovers, Smoke is not entirely human. Smoke, too, is taken by surprise at their encounter. He had lurked beside the forest road intending to pierce hearts and slit throats, not to fall in love. But love it is-or it would be-if only he can convince Ketty that marriage is better than death. But just when happily-ever-after seems within reach, Smoke's past returns to claim him. A deserter from the Koráyos army, his supernatural skill at killing is still very much in demand. Now the army wants him back. The Dread Hammer is an enthralling, darkly comic fairytale of love, war, murder, marriage, and fate.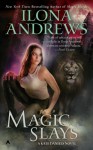 Magic Slays by Ilona Andrews

This is the fifth book in the Kate Daniels series, my very favorite urban fantasy series at the moment (and one of my favorite series period for entertaining reading and endless speculation on what will happen).  The previous four books are (in order):
1. Magic Bites (Review)
2. Magic Burns (Review)
3. Magic Strikes (Review)
4. Magic Bleeds (Review)
I hard a hard time deciding if I wanted to read this sooner or wait longer to get a signed copy.  I ended up pre-ordering the signed copy from Powell's, and it's signed by both Ilona and Gordon which is neat.  Even though I just got it this week I have already finished it so hopefully there will be a review up soon!
Plagued by a war between magic and technology, Atlanta has never been so deadly. Good thing Kate Daniels is on the job.
Kate Daniels may have quit the Order of Knights of Merciful Aid, but she's still knee-deep in paranormal problems. Or she would be if she could get someone to hire her. Starting her own business has been more challenging than she thought it would be-now that the Order is disparaging her good name. Plus, many potential clients are afraid of getting on the bad side of the Beast Lord, who just happens to be Kate's mate.
So when Atlanta's premier Master of the Dead calls to ask for help with a vampire on the loose, Kate leaps at the chance of some paying work. But it turns out that this is not an isolated incident. Kate needs to get to the bottom of it-and fast, or the city and everyone dear to her may pay the ultimate price…