Merry Christmas and Happy Holidays! Hope you are having a wonderful holiday season.
There will probably be a Christmas edition of this next week, but since that's today I haven't found out what the books are, if any. In the meantime, one ARC did show up that I was as excited about as I could possibly be since it is one of my most anticipated releases of next year.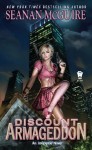 Discount Armageddon by Seanan McGuire

Eeeee! It's the first book in Seanan McGuire's new urban fantasy series, InCryptid! And after looking through the beginning, it looks even more awesome than I'd hoped for! Sure, my husband has been picking on me all week for being excited about a book that looks like it has Catholic Schoolgirl Barbie on the cover, but I don't care because it looks like such fun!
This showing up unexpectedly made my week and it is a definite read and review. In fact, I'd probably be reading it now had I been in between books or close to finished with one when it arrived. I love Seanan McGuire's Toby Daye books. They have  just been getting better and better and it is one of the urban fantasy series I most enjoy.
Discount Armageddon will be released in mass market paperback and ebook formats on March 6, 2012.
Ghoulies. Ghosties. Long-legged beasties. Things that go bump in the night… The Price family has spent generations studying the monsters of the world, working to protect them from humanity-and humanity from them. Enter Verity Price. Despite being trained from birth as a cryptozoologist, she'd rather dance a tango than tangle with a demon, and is spending a year in Manhattan while she pursues her career in professional ballroom dance. Sounds pretty simple, right? It would be, if it weren't for the talking mice, the telepathic mathematicians, the asbestos supermodels, and the trained monster-hunter sent by the Price family's old enemies, the Covenant of St. George. When a Price girl meets a Covenant boy, high stakes, high heels, and a lot of collateral damage are almost guaranteed. To complicate matters further, local cryptids are disappearing, strange lizard-men are appearing in the sewers, and someone's spreading rumors about a dragon sleeping underneath the city…