Hope everyone is enjoying their Sunday and looking forward to Game of Thrones season 2 starting tonight! I recently finished watching season 1 to prepare.
Browsing bargain books strikes again with 2 cheap finds and one unsolicited review copy this week.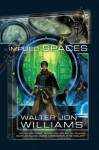 Implied Spaces by Walter Jon Williams

This was one of the bargain books I found and it still seems to be available for about $6 in hardcover if you're interested. I've read two books by Walter Jon Williams now, and I liked them both so I couldn't resist this bargain – especially since this particular book is one I've been hearing is really good. And how could I resist a book about a "semi-retired computer scientist turned swordsman"?
There are some sample chapters from Implied Spaces available online.
Aristide, a semi-retired computer scientist turned swordsman, is a scholar of the implied spaces, seeking meaning amid the accidents of architecture in a universe where reality itself has been sculpted and designed by superhuman machine intelligence. While exploring the pre-technological world Midgarth, one of four dozen pocket universes created within a series of vast, orbital matrioshka computer arrays, Aristide uncovers a fiendish plot threatening to set off a nightmare scenario, perhaps even bringing about the ultimate Existential Crisis: the end of civilization itself. Traveling the pocket universes with his wormhole-edged sword Tecmesssa in hand and talking cat Bitsy, avatar of the planet-sized computer Endora, at his side, Aristide must find a way to save the multiverse from subversion, sabotage, and certain destruction.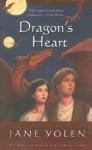 Dragon's Heart by Jane Yolen

This is why I love browsing bargain books – I didn't even know there was a fourth book in the Pit Dragon series until I came across a cheap copy of it! I thought the first book was the best one, but I'm still interested in reading the fourth book.
This was actually one of the first young adult series I read as an adult. My husband had always told me he thought there were some great young adult books out there, including this series, but I always thought of them as books for kids, not adults. Then I read the first one of these and was surprised by just how dark it was and the fact that it didn't seem like what I would think of as a "kid's book" at all.
The first three books in this series are Dragon's Blood, Heart's Blood, and A Sending of Dragons. According to Jane Yolen, Dragon's Heart is the final book in the Pit Dragon Chronicles.
Austar IV isn't the planet it once was, and when Jakkin and Akki finally return to the dragon nursery, their homecoming arouses mixed emotions. Together they've survived the insurmountable, and now they can weather the brutal conditions of Dark After and communicate with the dragons they love. But with this knowledge comes responsibility. What they've learned about survival could transform the planet–or, if entrusted to the wrong hands, bring about its destruction. Akki's insistence that she return to the Rokk to finish her training and begin new experiments drives a chasm between her and Jakkin. Suddenly she finds herself in the midst of a political battle that could claim her life. Only Jakkin can save her. If only he could reach her. . . .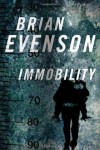 Immobility by Brian Evenson

Immobility, a "far future thriller about a post-human world struggling to stay human," will be released in hardcover and ebook on April 10th. Brian Evenson has won the ALA Award for Best Horror Novel and the IHG Award for Best Story Collection, and he has been a finalist for the Edgar Award. I'm not familiar with his work, but this looks like it could be interesting.
When you open your eyes things already seem to be happening without you. You don't know who you are and you don't remember where you've been. You know the world has changed, that a catastrophe has destroyed what used to exist before, but you can't remember exactly what did exist before. And you're paralyzed from the waist down apparently, but you don't remember that either.
A man claiming to be your friend tells you your services are required. Something crucial has been stolen, but what he tells you about it doesn't quite add up. You've got to get it back or something bad is going to happen. And you've got to get it back fast, so they can freeze you again before your own time runs out.
Before you know it, you're being carried through a ruined landscape on the backs of two men in hazard suits who don't seem anything like you at all, heading toward something you don't understand that may well end up being the death of you.
Welcome to the life of Josef Horkai….