It's been another great week for Women in SF&F Month! Today I'm going to round up links to last week's posts, link to a couple of related sites, and announce next week's guests. Also, since I just gave away a fantasy book, I'm going to give away a science fiction book this week! (If you did sign up to win Dragon Sword and Wind Child, check your email since I notified the winner earlier today.)
Week In Review
There were some fantastic posts this week! Here's what happened over the last week in case you missed any of it:
Thanks to all of these week's guests, who gave us a lot to think about and have added substantially to my already huge wishlist!
There were a couple of sites started recently that I wanted to mention since they'll be good places to go for finding SFF books written by women:
Week Three Guests
Guests for the third week are:
Lynn Flewelling (Nightrunner series, Tamir trilogy)
N. K. Jemisin (The Inheritance trilogy, the upcoming Dreamblood duology)
Sarah from Bookworm Blues
Shara from Calico Reaction (LiveJournal, WordPress)
Lisa Shearin (Raine Benares series)
Giveaway
Today I am giving away one copy of Parable of the Sower, a post-apocalyptic science fiction book written by Octavia E. Butler. I enjoyed this one very much for both its thoughtfulness and the main character, a young woman who refuses to live in ignorance of the state of the world around her and shows strength in her struggle to survive in it.
About Parable of the Sower: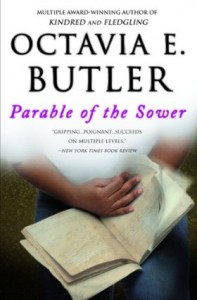 When unattended environmental and economic crises lead to social chaos, not even gated communities are safe. In a night of fire and death Lauren Olamina, a minister's young daughter, loses her family and home and ventures out into the unprotected American landscape. But what begins as a flight for survival soon leads to something much more: a startling vision of human destiny… and the birth of a new faith.
Read an Excerpt from Parable of the Sower
Giveaway Rules: To be entered in the giveaway, fill out the form below. One entry per person and a winner will be randomly selected. This giveaway is open internationally, but to be eligible to win, you must live in a country that qualifies for free shipping from The Book Depository. The giveaway will be open until the end of the day on Saturday, April 21. The winner has 24 hours to respond once contacted via email, and if I don't hear from them by then a new winner will be chosen (who will also have 24 hours to respond until someone gets back to me with a place to send the book).
Please note email addresses will only be used for the purpose of contacting the winner. Once the giveaway is over all the emails will be deleted.
Good luck!
Note: Form has been removed now that the giveaway is over.