The Leaning Pile of Books is a feature where I talk about books I got over the last week – old or new, bought or received for review. Since I hope you will find new books you're interested in reading in these posts, I try to be as informative as possible. If I can find them, links to excerpts, author's websites, and places where you can find more information on the book are included.
This is actually a couple of weeks worth since I didn't have time to keep up with this toward the end of the Women in SF&F event. These are all review copies.
Usually, I'd be putting this up tomorrow, but I'm still working on my final Women in SF&F post. So I am going to put this up today, and I'm hoping that can go up tomorrow. Then I am hoping I can finally write my reviews of Range of Ghosts by Elizabeth Bear and Bitterblue by Kristin Cashore and finish The Killing Moon by N. K. Jemisin so I can review that as well. Sorry for the delay – between working full time and running last month's event, I haven't had time for reviewing (or even reading that much, which has mostly been limited to a little bit here and there before going to sleep). But after tomorrow's post, I'm hoping to go back to a more regular reading/reviewing schedule!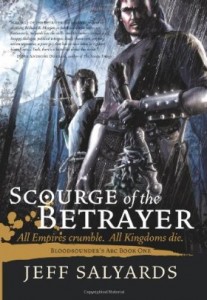 Scourge of the Betrayer (Bloodsounder's Arc #1) by Jeff Salyards
This debut novel was released earlier this month in both hardcover and ebook. There is an excerpt available on the author's website.
I'm really curious about this one, especially after reading Sarah's review at Bookworm Blues. She's normally skeptical about books supposed to be gritty fantasy like this one, but she liked this one quite a bit.
Many tales are told of the Syldoon Empire and its fearsome soldiers, who are known throughout the world for their treachery and atrocities. Some say that the Syldoon eat virgins and babies–or perhaps their own mothers. Arkamondos, a bookish young scribe, suspects that the Syldoon's dire reputation may have grown in the retelling, but he's about to find out for himself.
Hired to chronicle the exploits of a band of rugged Syldoon warriors, Arki finds himself both frightened and fascinated by the men's enigmatic leader, Captain Braylar Killcoin. A secretive, mercurial figure haunted by the memories of those he's killed with his deadly flail, Braylar has already disposed of at least one impertinent scribe . . . and Arki might be next.
Archiving the mundane doings of millers and merchants was tedious, but at least it was safe. As Arki heads off on a mysterious mission into parts unknown, in the company of the coarse, bloody-minded Syldoon, he is promised a chance to finally record an historic adventure well worth the telling, but first he must survive the experience!
A gripping military fantasy in the tradition of Glen Cook, SCOURGE OF THE BETRAYER explores the brutal politics of Empire–and the searing impact of violence and dark magic on a man's soul.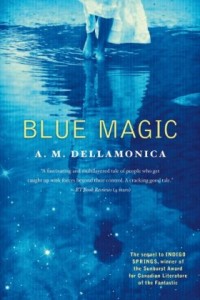 Blue Magic by A. M. Dellamonica

Blue Magic was released in trade paperback and ebook last month. It is the sequel to contemporary fantasy Indigo Springs, which won the Sunburst Award for Excellence in Canadian Literature of the Fantastic. There is an excerpt on Tor.com, as well as one from Indigo Springs if you haven't read that one yet.
I haven't read Indigo Springs myself yet, but I have a copy I bought a while ago that I'm going to try to move up the TBR pile since this one showed up. The quote from Library Journal about Indigo Springs on the back cover of Blue Magic has me really curious about it:
First in a two-novel series, this ecofantasy delivers a powerful story of good intentions gone terribly wrong and introduces a promising new voice that brings a fresh vision to the genre. Recommended.
"Good intentions gone terribly wrong"  sounds intriguing! I'm also interested to read how A. M. Dellamonica handled women in the law like she discussed in her post for the Women in SF&F event last month.
The sequel to Indigo Springs, "A psychologically astute, highly original debut—complex, eerie, and utterly believable."  —Kirkus Reviews, Starred Review
This powerful sequel to the A.M. Dellamonica's Sunburst Award–winning contemporary fantasy Indigo Springs starts in the small town in Oregon where Astrid Lethewood discovered an underground river of blue liquid—Vitagua—that is pure magic. Everything it touches is changed. The secret is out—and the world will never be the same. Astrid's best friend, Sahara, has been corrupted by the blue magic, and now leads a cult that seeks to rule the world. Astrid, on the other hand, tries to heal the world.
Conflicting ambitions, star-crossed lovers, and those who fear and hate magic combine in a terrible conflagration, pitting friend against friend, magic against magic, and the power of nations against a small band of zealots, with the fate of the world at stake.

Blue Magic is a powerful story of private lives changed by earthshaking events that will ensnare readers in its poignant tale of a world touched by magic and plagued by its consequences.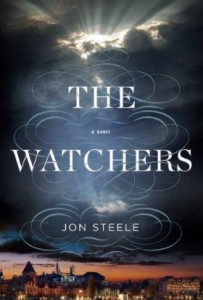 The Watchers (Angelus #1) by Jon Steele

The Watchers, the first book in a new trilogy, will be on sale in the US in both hardcover and ebook formats on May 29th. (It is already out in the UK.) An excerpt can be read on the author's website. This is Jon Steele's first novel, although he has written a memoir about his experience as a news cameraman entitled War Junkie.
Meet Marc Rochat, a man-child who has devoted his life to being the bell ringer at the Gothic Lausanne Cathedral, one of the greatest architectural structures in the world. Eerie things have been going on in and around his church, including tremblings in the underground crypt and a variety of gruesomely murdered bodies showing up in nearby streets. Across the square from the cathedral lives Katherine Taylor, a beautiful young American woman who is making phenomenal money as one of the highest-priced call girls in Switzerland; she's a bit too introspective for her own good and, unfortunately, much too observant of her clients' peccadilloes. Rochat's and Taylor's lives collide with Jay Harper, a British private eye who has been sent to investigate the killings and other strange doings; alas, he has no memory of who hired him or precisely why he was chosen for the job. And now all the clues are pointing skyward, where fallen angels are said to haunt Lausanne.