The Leaning Pile of Books is a feature where I talk about books I got over the last week – old or new, bought or received for review consideration. Since I hope you will find new books you're interested in reading in these posts, I try to be as informative as possible. If I can find them, links to excerpts, author's websites, and places where you can find more information on the book are included.
This week, I purchased one book I've been wanting to read for awhile and four review copies showed up. Two of these are books I already mentioned in one of these posts when the ARC showed up, so I'll just link to those posts in you want to know more about them:
Shattered Pillars was one of my most anticipated releases of 2013 since I LOVED Range of Ghosts, and I'm reading that one now.
On to the other books!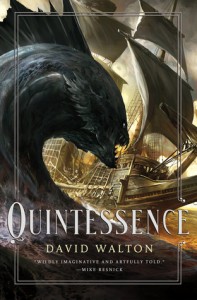 Quintessence by David Walton
Quintessence is David Walton's second novel; his first, Terminal Mind, won the Philip K. Dick Award in 2008. Walton is working on a sequel to Quintessence.
Quintessence will be released in hardcover and ebook on March 19. The first three chapters can be read on the author's website.
Imagine an Age of Exploration full of alchemy, human dissection, sea monsters, betrayal, torture, religious controversy, and magic. In Europe, the magic is thin, but at the edge of the world, where the stars reach down close to the Earth, wonders abound. This drives the bravest explorers to the alluring Western Ocean. Christopher Sinclair is an alchemist who cares only about one thing: quintessence, a substance he believes will grant magical powers and immortality. And he has a ship.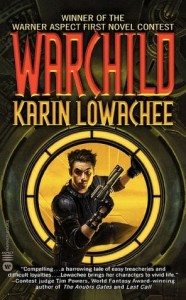 Warchild by Karin Lowachee
Confession: This is the second copy of this book I have purchased. When I first got my iPad, I read a sample online and purchased the ebook since new print copies are hard to find and/or expensive. I really enjoyed what I read from it but never finished it despite that because I discovered I hate reading on the iPad. With the second annual Women in SF&F Month coming up, I was thinking about this book again (Shara from Calico Reaction said it was her favorite science fiction novel last year and Janice from Janicu's Book Blog also mentioned it as one of her favorite science fiction books last year). I decided I need to actually read all the way through because it seemed REALLY good so I found a used print copy and ordered it.
There are two other books set in the Warchild universe, Burndive and Cagebird. They are mosaic novels instead of a trilogy following the same character. Here's what Lowachee says about how the three novels fit together on the Warchild Universe page on her website:
I began to envision a mosaic of novels, each told from single points of view, interpreting the effects of war and an arduous peace process. The protagonists would be full of flaws, their personalities would perhaps challenge the reader; they would be as real as I could make them (writing in depth from a single point of view is what I call 'method writing'), each with a unique way of looking at their world, each with the ability to become better people (sometimes despite themselves.) Many different themes manifested through the telling, providing a mostly unconscious cohesion to it all. I don't regard these books as a chronological trilogy, but as a mosaic series: each piece is as individual as the characters who narrate their stories, and put together they form a bigger picture. It begins with Jos, continues with privileged Ryan, and has temporarily concluded with the voice of the 'enemy,' Yuri. I never intended Yuri's to be the final piece in this mosaic, but we'll see what the future brings.
There's more on the series on the page linked to above, and it sounds incredibly interesting.
When Jos' parents are killed in an attack on their trading ship, the boy is kidnapped by the attackers and then escapes – only to fall into the alien hands of humanity's greatest enemies. He is soon coerced into becoming a spy against the human race.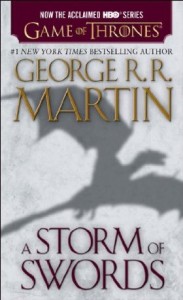 A Storm of Swords (A Song of Ice and Fire #3) by George R. R. Martin
This one probably needs no introduction… A Storm of Swords is the third book in George R. R. Martin's A Song of Ice and Fire series (and the best one, in my opinion).
This particular mass market paperback is the official tie-in to the HBO series Game of Thrones. Season 3, which will include events from this book, begins on March 31st in the US. This edition of the book will be available on March 26th.
Here is the third volume in George R.R. Martin's magnificent cycle of novels that includes A Game of Thrones and A Clash of Kings. Together, this series comprises a genuine masterpiece of modern fantasy, destined to stand as one of the great achievements of imaginative fiction.
Of the five contenders for power, one is dead, another in disfavor, and still the wars rage as alliances are made and broken. Joffrey sits on the Iron Throne, the uneasy ruler of of the Seven Kingdoms. His most bitter rival, Lord Stannis, stands defeated and disgraced, victim of the sorceress who holds him in her thrall. Young Robb still rules the North from the fortress of Riverrun. Meanwhile, making her way across a blood-drenched continent is the exiled queen, Daenerys, mistress of the only three dragons still left in the world. And as opposing forces maneuver for the final showdown, an army of barbaric wildlings arrives from the outermost limits of civilization, accompanied by a horde of mythical Others—a supernatural army of the living dead whose animated corpses are unstoppable. As the future of the land hangs in the balance, no one will rest until the Seven Kingdoms have exploded in a veritable storm of swords…