The Leaning Pile of Books is a feature where I talk about books I got over the last week – old or new, bought or received for review consideration (often unsolicited). Since I hope you will find new books you're interested in reading in these posts, I try to be as informative as possible. If I can find them, links to excerpts, author's websites, and places where you can find more information on the book are included.
This week there are more books than usual since I received a few that were sent to an old address, but first, here's a brief weekly update.
In case you missed it, a review of Tainted Blood by M. L. Brennan went up last week. I enjoyed it very much and I can hardly wait for Dark Ascension—and fortunately, there is not a long wait for the next book since it's being released next month! It's the urban fantasy book I'm most looking forward to this year.
There will be a book giveaway tomorrow. The next book reviewed will probably be The Invisible Library by Genevieve Cogman. It's one of my favorite books of 2015 so far.
On to the books!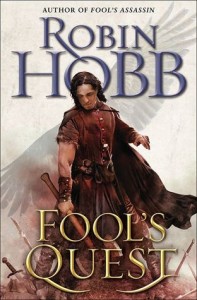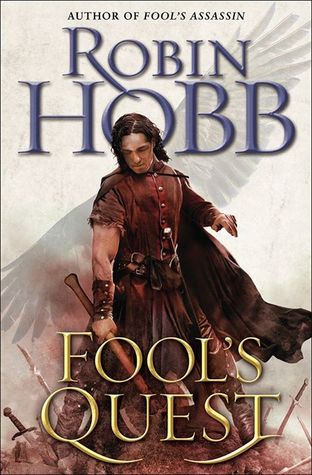 Fool's Quest (The Fitz and the Fool Trilogy #2) by Robin Hobb
The second book in Robin Hobb's new trilogy about FitzChivalry Farseer will be released on August 11 (hardcover, ebook, audiobook). The first 50 pages of Fool's Assassin, the first book in the trilogy, can be read on Suvudu.
I loved Robin Hobb's Farseer, Liveship Traders, and Tawny Man trilogies, and I was excited to learn she was writing more about what happened after the last of those three. Assassin's Apprentice is one of the fantasy books I read when first starting to read the genre, and I'd recommend those new to these books start at the beginning with that one. I'm about halfway through Fool's Assassin right now and enjoying it very much.
The book description below does contain spoilers for previous books.
Ranking alongside George R. R. Martin as a groundbreaking master of fantasy, New York Times bestselling author Robin Hobb delivers the second book in her long-awaited Fitz and the Fool trilogy.
The harrowing adventures of FitzChivalry Farseer and his enigmatic friend the Fool continue in Robin Hobb's triumphant follow-up to Fool's Assassin. But Fool's Quest is more than just a sequel. With the artistry and imagination her fans have come to expect, Hobb builds masterfully on all that has gone before, revealing devastating secrets and shocking conspiracies that cast a dark shadow over the history of Fitz and his world—a shadow that now stretches to darken all future hope.
Long ago, Fitz and the Fool changed the world, bringing back the magic of dragons and securing both the Farseer succession and the stability of the kingdom. Or so they thought. But now the Fool is near death, maimed by mysterious pale-skinned figures whose plans for world domination hinge upon the powers the Fool may share with Fitz's own daughter.
Distracted by the Fool's perilous health, and swept up against his will in the intrigues of the royal court, Fitz lets down his guard . . . and in a horrible instant, his world is undone and his beloved daughter stolen away by those who would use her as they had once sought to use the Fool—as a weapon.
But FitzChivalry Farseer is not without weapons of his own. An ancient magic still lives in his veins. And though he may have let his skills as royal assassin diminish over the years, such things, once learned, are not so easily forgotten.
Now enemies and friends alike are about to learn that nothing is more dangerous than a man who has nothing left to lose.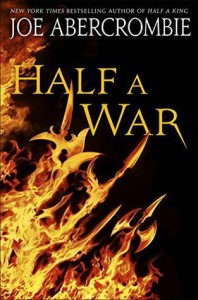 Half a War (Shattered Sea #3) by Joe Abercrombie
The final book in the Shattered Sea trilogy will be released on July 28 (hardcover, ebook, audiobook). An excerpt from Half a War is available on the author's website—and if you missed the first two books, there are also excerpts from Half a King and Half the World online.
I haven't yet read the second book, which came out earlier this year, but I really enjoyed Half a King.
Words are weapons
Princess Skara has seen all she loved made blood and ashes. She is left with only words. But the right words can be as deadly as any blade. She must conquer her fears and sharpen her wits to a lethal edge if she is to reclaim her birthright.
Only half a war is fought with swords
The deep-cunning Father Yarvi has walked a long road from crippled slave to king's minister. He has made allies of old foes and stitched together an uneasy peace. But now the ruthless Grandmother Wexen has raised the greatest army since the elves made war on God, and put Bright Yilling at its head – a man who worships no god but Death.
Sometimes one must fight evil with evil
Some – like Thorn Bathu and the sword-bearer Raith – are born to fight, perhaps to die. Others – like Brand the smith and Koll the wood-carver – would rather stand in the light. But when Mother War spreads her iron wings, she may cast the whole Shattered Sea into darkness.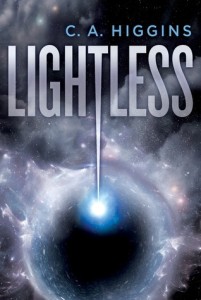 Lightless by C. A. Higgins
This debut science fiction novel will be released on September 22 (hardcover, ebook). An excerpt from Lightless is included in the Del Rey and Bantam Books 2015 Sampler. A sequel, Supernova, is scheduled for release next year.
The deeply moving human drama of Gravity meets the nail-biting suspense of Alien in this riveting science fiction debut. With bold speculation informed by a degree in astrophysics, C. A. Higgins spins an unforgettable "locked spaceship" mystery guaranteed to catapult readers beyond their expectations—and into brilliantly thrilling new territory.
Serving aboard the Ananke, an experimental military spacecraft launched by the ruthless organization that rules Earth and its solar system, computer scientist Althea has established an intense emotional bond—not with any of her crewmates, but with the ship's electronic systems, which speak more deeply to her analytical mind than human feelings do. But when a pair of fugitive terrorists gain access to the Ananke, Althea must draw upon her heart and soul for the strength to defend her beloved ship.
While one of the saboteurs remains at large somewhere on board, his captured partner—the enigmatic Ivan—may prove to be more dangerous. The perversely fascinating criminal whose silver tongue is his most effective weapon has long evaded the authorities' most relentless surveillance—and kept the truth about his methods and motives well hidden.
As the ship's systems begin to malfunction and the claustrophobic atmosphere is increasingly poisoned by distrust and suspicion, it falls to Althea to penetrate the prisoner's layers of intrigue and deception before all is lost. But when the true nature of Ivan's mission is exposed, it will change Althea forever—if it doesn't kill her first.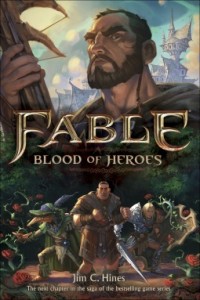 Fable: Blood of Heroes by Jim C. Hines
Fable: Blood of Heroes will be released on August 4 (paperback, ebook). An excerpt is available on the publisher's website (click "Look Inside" underneath the cover image).
The official companion novel to the videogame Fable® Legends
Deep in Albion's darkest age, long before once upon a time . . . Heroes are thought to be gone from the land. So why have the bards begun singing of them once more? For Fable newcomers and dedicated fans alike, Blood of Heroes delves into a never-before-glimpsed era, telling the tale of a band of adventurers who come together to defend a kingdom in desperate need.
The city of Brightlodge is awash with Heroes from every corner of Albion, all eager for their next quest. When someone tries to burn down the Cock and Bard inn, four Heroes find themselves hastily thrown together, chasing outlaws through sewers, storming a riverboat full of smugglers, and placing their trust in a most unlikely ally. As the beginnings of a deadly plot are revealed, it becomes clear that Heroes have truly arrived—and so have villains.
What connects the recent events in Brightlodge to rumors about a malicious ghost and a spate of unsolved deaths in the nearby mining town of Grayrock? Unless Albion's bravest Heroes can find the answer, the dawn of a new age could be extinguished before it even begins.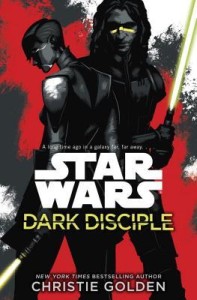 Dark Disciple: Star Wars by Christie Golden
Dark Disciple will be released on July 7 (hardcover, ebook, audiobook). The first 50 pages can be read on Suvudu.
Based on unproduced episodes of Star Wars: The Clone Wars, this new novel features Asajj Ventress, former Sith apprentice turned bounty hunter and one of the great antiheroes in the Star Wars galaxy.
The only way to bring down the Sith's most dangerous warrior may be to join forces with the dark side.
In the war for control of the galaxy between the armies of the dark side and the Republic, former Jedi Master turned ruthless Sith Lord Count Dooku has grown ever more brutal in his tactics. Despite the powers of the Jedi and the military prowess of their clone army, the sheer number of fatalities is taking a terrible toll. And when Dooku orders the massacre of a flotilla of helpless refugees, the Jedi Council feels it has no choice but to take drastic action: targeting the man responsible for so many war atrocities, Count Dooku himself.
But the ever-elusive Dooku is dangerous prey for even the most skilled hunter. So the Council makes the bold decision to bring both sides of the Force's power to bear—pairing brash Jedi Knight Quinlan Vos with infamous one-time Sith acolyte Asajj Ventress. Though Jedi distrust for the cunning killer who once served at Dooku's side still runs deep, Ventress's hatred for her former master runs deeper. She's more than willing to lend her copious talents as a bounty hunter—and assassin—to Vos's quest.
Together, Ventress and Vos are the best hope for eliminating Dooku—as long as the emerging feelings between them don't compromise their mission. But Ventress is determined to have her retribution and at last let go of her dark Sith past. Balancing the complicated emotions she feels for Vos with the fury of her warrior's spirit, she resolves to claim victory on all fronts—a vow that will be mercilessly tested by her deadly enemy . . . and her own doubt.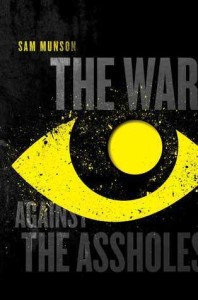 The War Against the Assholes by Sam Munson
This novel became available last month (hardcover, ebook, audiobook). An excerpt from The War Against the Assholes is available on the publisher's website.
Contemporary fantasy meets true crime when schools of ancient sorcery go up against the art of the long con in this stunningly entertaining debut fantasy novel.
Mike Wood is satisfied just being a guy with broad shoulders at a decidedly unprestigious Catholic school in Manhattan. But on the dirty streets of New York City he's an everyman with a moral code who is unafraid of violence. And when Mike is unwittingly recruited into a secret cell of magicians by a fellow student, Mike's role as a steadfast soldier begins. These magicians don't use ritualized rote to work their magic, they use willpower in their clandestine war with the establishment: The Assholes.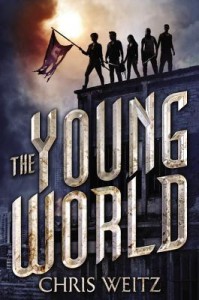 The Young World (The Young World #1) by Chris Weitz
The Young World was released in paperback last month and is also available in hardcover, ebook, and audiobook. USA Today has an excerpt from it.
Welcome to New York, a city ruled by teens.
After a mysterious Sickness wipes out the rest of the population, the young survivors assemble into tightly run tribes. Jefferson, the reluctant leader of the Washington Square tribe, and Donna, the girl he's secretly in love with, have carved out a precarious existence among the chaos.
But when a fellow tribe member discovers a clue that may hold the cure for the Sickness, five teens set out on a life-altering road trip, exchanging gunfire with enemy gangs, escaping cults and militias, braving the wilds of the subway – all in order to save humankind.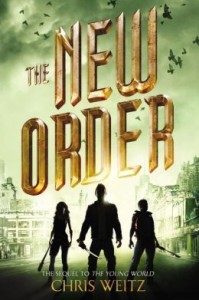 The New Order (The Young World #2) by Chris Weitz
The New Order, the second book in The Young World series, will be released on July 21 (hardcover, ebook, audiobook). A free preview of the first 73 pages is available online, and it's also possible to get it for the Kindle or the Nook.
They thought they were the only ones left. They were wrong.
After the unexpected revelation at the end of the first book, Donna and Jefferson are separated. Jefferson returns to NYC and tries to bring a cure to the Sickness back to the Washington Square tribe, while Donna finds herself in England, facing an unimaginable new world. Can the two reunite and prevent an even greater disaster than the Sickness?
This second book in The Young World trilogy will keep you at the edge of your seat.