Today's guest is Hafsah Faizal! We Hunt the Flame, her YA fantasy debut novel inspired in part by ancient Arabia, has received starred reviews from Booklist and The Bulletin of the Center for Children's Books. You can read chapter one on Hypable right now—and you can read the book in its entirety when We Hunt the Flame is released on May 14!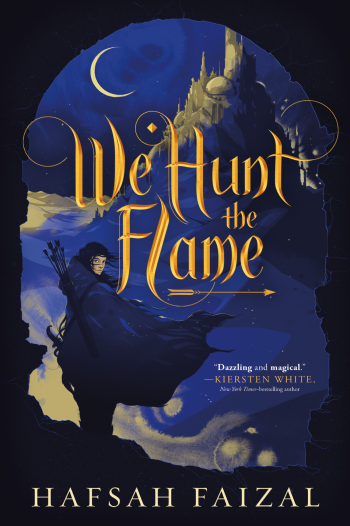 Nearly every author introduces a trope into their novel at some point, whether to eventually subvert said trope, or use it—particularly in fantasy—to create a touchstone for a reader, providing some semblance of grounding in this vast new world you've tumbled into.
WE HUNT THE FLAME is one of those books: you'll find multiple tropes that made their way into the story via some subconscious effort or another (with the exception being the beloved enemies-to-lovers trope, which I knew going in that it had to make an appearance in my book). If I were being truly honest, most of my debut's content stemmed from some part of my subconscious I've yet to understand. So when I was recently asked why I used a particular trope in which Zafira Iskandar, one of the book's two narrators, masquerades as a boy, it took some thinking on my part to find an answer. Some really deep thinking.
Because it was worded in a way that made me feel wrong: "Isn't it ironic that Zafira struggles with her gender-obscuring cloak while the author herself is covered?"
Which to me, was asking "was it a secret plea?" The answer, of course, is a resounding no. But the question itself shook me—how could I have done such a thing without thinking it through? Until I figured out why, I knew I wouldn't be able to justify my answer, even to myself, and it wasn't long before it hit me.
Zafira Iskandar is headstrong. She's proud of what she's done, and she's content with who she is. It's the outside world that worries her. In the caliphate of Demenhur (one of the five states that make up the kingdom in which the book takes place), women are scorned upon. They're blamed for every wrong that befalls the people. This is why Zafira begins masquerading as a boy. It means the Demenhune Hunter is famed and lauded for the selfless act of feeding 'his' people. Zafira knows that if her caliphate found her out, she would be shunned, her accomplishments twisted into something ugly. Every false judgement would be placed on her, simply because of who and what she is.
It's important to know that when I began writing WE HUNT THE FLAME, it was early 2014. I was twenty, and I'd been blogging for around three years then, hiding behind a logo of my blog. I was content, but aware: no one really knew I was Muslim. Which was fine by me. But no one knew I was a niqabi, veiled and very, visibly Muslim. So by 2014, I was making a name for myself in the publishing community, sharing design tips and tricks until the moment of truth dragged everything to a screeching halt: Book Expo America invited me to chat about design in NYC, and to finalize the program, they needed a headshot.
I distinctly remember how simple those words were: send us a high-res headshot and a brief bio, but what they didn't realize was how life-and-death that moment felt to me. Here I was, steadily growing my presence and establishing a platform, my identity an easily-kept secret, and everything was suddenly teetering off a precipice. Posting a photograph of myself online equated to inviting people to judge me before they got to know me. It invited them to blame me for terrors and horrors and fears and insecurities.
That moment in my life, which was filled with the excitement of being invited to an event I never thought I could attend and the fear that this is it—I'm done for, bled into my writing. It seeped into my words and shaped Zafira into who she is. At that point in time, she was me and I was her.
Because we're both perfectly content with who we are—it's the external, unfounded perceptions that scare us. We've both learned to fight back against these perceptions. If we don't challenge them, if we don't pave a better path for the ones who will follow: who will?
So while I did incorporate a well-loved trope, it took on a new meaning when I realized why I had done it.
I like to think I was weaving in yet another little piece of my soul.

| | |
| --- | --- |
| | HAFSAH FAIZAL is an American Muslim and brand designer. She's the founder of IceyDesigns, where she creates websites for authors and beauteous goodies for everyone else. When she's not writing, she can be found dreaming up her next design, deciding between Assassin's Creed and Skyrim, or traversing the world. Born in Florida and raised in California, she now resides in Texas with her family and a library of books waiting to be devoured. WE HUNT THE FLAME is her first novel. |