The Leaning Pile of Books is a feature in which I highlight books I got over the last week that sound like they may be interesting—old or new, bought or received in the mail for review consideration (the latter of which are mainly unsolicited books from publishers). Since I hope you will find new books you're interested in reading in these posts, I try to be as informative as possible. If I can find them, links to excerpts, author's websites, and places where you can find more information on the book are included, along with series information and the publisher's book description. As an Amazon Associate I earn from qualifying purchases.
It's been a while since I did one of these features! Here are the blog posts that have gone up since the last one of these in case you missed any of them:
Since the pandemic started, there have not been as many books in the mail, and most of the ones that have arrived lately are covered in the 30 Anticipated Speculative Fiction Book Releases post mentioned above. There have been a few weekends that I thought about covering e-ARCs that I'd downloaded, but I ended up running out of time for various reasons. Lately, I've been spending a lot of my weekend time on work projects and preparing for the tenth annual Women in SF&F Month in April—which I am very excited about! (Here is more about last year's event if you missed it.)
Since I have missed some books I'd like to mention, I am covering an e-ARC that I just downloaded as well as a couple of others somewhat recently added to my Kindle in this week's Leaning Pile of Books.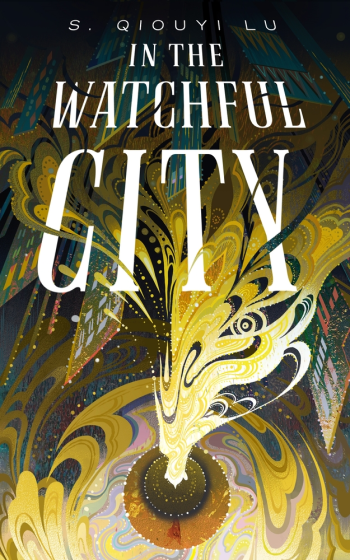 In the Watchful City by S. Qiouyi Lu
Writer, editor, and translator S. Qiouyi Lu's debut novella will be released on August 31 (trade paperback, ebook).
Tor.com has more information on In the Watchful City, including quotes from both the author and editor. Here's some of what the author said that made me especially curious about this upcoming novella:
The city in which the frame narrative is set, Ora, arose out of a fusion of Italo Calvino's Invisible Cities and a bio-cyberpunk take on surveillance, one extrapolated from current technology that I got to see in Hangzhou, China. The city is not one cohesive place, but layers and layers, facets upon facets; this novella sees Ora from multiple perspectives while also looking out into the world.

In the Watchful City is more than just an illustration of a city, too. It is also a collection of stories about diaspora, about power, about longing, about growth and transformation.
This sounds fantastic, and I must admit, I was also intrigued by the gorgeous cover illustration by Kuri Huang!
S. Qiouyi Lu's In the Watchful City explores borders, power, diaspora, and transformation in an Asian-inspired mosaic novella that melds the futurism of Lavie Tidhar's Central Station with the magical wonder of Catherynne M. Valente's Palimpsest.
The city of Ora uses a complex living network called the Gleaming to surveil its inhabitants and maintain harmony. Anima is one of the cloistered extrasensory humans tasked with watching over Ora's citizens. Although ær world is restricted to what æ can see and experience through the Gleaming, Anima takes pride and comfort in keeping Ora safe from all harm.
All that changes when a mysterious visitor enters the city carrying a cabinet of curiosities from around the world, with a story attached to each item. As Anima's world expands beyond the borders of Ora to places—and possibilities—æ never before imagined to exist, æ finds ærself asking a question that throws into doubt ær entire purpose: What good is a city if it can't protect its people?"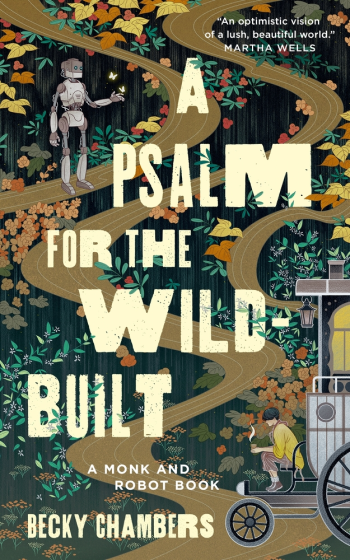 A Psalm for the Wild-Built (Monk and Robot #1) by Becky Chambers
Becky Chambers begins a new series with A Psalm for the Wild-Built, coming July 13 (hardcover, ebook, audiobook).
Her Hugo Award–winning Wayfarers series is known for its optimism, and A Psalm for the Wild-Built is also supposed to be a hopeful story.
In A Psalm for the Wild-Built, Hugo Award-winner Becky Chambers's delightful new Monk & Robot series gives us hope for the future.
It's been centuries since the robots of Panga gained self-awareness and laid down their tools; centuries since they wandered, en masse, into the wilderness, never to be seen again; centuries since they faded into myth and urban legend.
One day, the life of a tea monk is upended by the arrival of a robot, there to honor the old promise of checking in. The robot cannot go back until the question of "what do people need?" is answered.
But the answer to that question depends on who you ask, and how.
They're going to need to ask it a lot.
Becky Chambers's new series asks: in a world where people have what they want, does having more matter?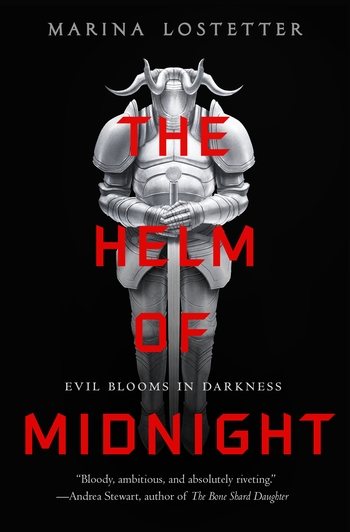 The Helm of Midnight (The Five Penalties #1) by Marina J. Lostetter
Marina J. Lostetter begins her first fantasy series with The Helm of Midnight, coming April 13 (hardcover, ebook, audiobook). She is also the author of the science fiction trilogy Noumenon.
The Tor/Forge Blog has an excerpt from The Helm of Midnight.
Hannibal meets Mistborn in Marina Lostetter's THE HELM OF MIDNIGHT, the dark and stunning first novel in a new trilogy that combines the intricate worldbuilding and rigorous magic system of the best of epic fantasy with a dark and chilling thriller.

In a daring and deadly heist, thieves have made away with an artifact of terrible power—the death mask of Louis Charbon. Made by a master craftsman, it is imbued with the spirit of a monster from history, a serial murderer who terrorized the city.
Now Charbon is loose once more, killing from beyond the grave. But these murders are different from before, not simply random but the work of a deliberate mind probing for answers to a sinister question.
It is up to Krona Hirvath and her fellow Regulators to enter the mind of madness to stop this insatiable killer while facing the terrible truths left in his wake.