The Leaning Pile of Books is a feature in which I highlight books I got over the last week that sound like they may be interesting—old or new, bought or received in the mail for review consideration. Since I hope you will find new books you're interested in reading in these posts, I try to be as informative as possible. If I can find them, links to excerpts, author's websites, and places where you can find more information on the book are included, along with series information and the publisher's book description. Book cover links are affiliate links to Bookshop, and I earn from qualifying purchases.
This week's Leaning Pile of Books features two of five books added to the TBR over the last couple of weeks. One is a book I purchased, the other is an electronic ARC, and neither are ones I've covered here this year. But before highlighting those, here are the latest posts in case you missed either of them:
This post doesn't contain details on the review copy and two purchased books that I've already highlighted here this year, all of which can be found on this list of 30 Anticipated 2021 Speculative Fiction Book Releases:
More about the other new books is below!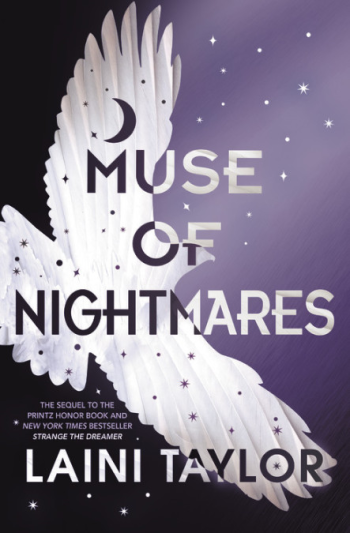 Muse of Nightmares (Strange the Dreamer #2) by Laini Taylor
Muse of Nightmares, the sequel to the New York Times bestselling novel and Printz Honor Book Strange the Dreamer, is available in hardcover, paperback, ebook, and audiobook. The publisher's website has excerpts from both Strange the Dreamer and Muse of Nightmares.
I love Laini Taylor's writing, and Strange the Dreamer was wonderful. When I was looking to spend some of a gift card on a book that hadn't just come out this year—one that I was excited to read but hadn't gotten yet because it is impossible to keep up with all the amazing books—I chose Muse of Nightmares. It was the only one of Laini Taylor's novels I didn't have yet, so I had to remedy that—and I ended up with an unexpected signed copy!
The book description below does contain spoilers for Strange the Dreamer.
The highly anticipated, thrilling sequel to the New York Times bestseller, Strange the Dreamer, from National Book Award finalist Laini Taylor, author of the bestselling Daughter of Smoke & Bone trilogy.
Sarai has lived and breathed nightmares since she was six years old.
She believed she knew every horror, and was beyond surprise.
She was wrong.
In the wake of tragedy, neither Lazlo nor Sarai are who they were before. One a god, the other a ghost, they struggle to grasp the new boundaries of their selves as dark-minded Minya holds them hostage, intent on vengeance against Weep.
Lazlo faces an unthinkable choice–save the woman he loves, or everyone else?–while Sarai feels more helpless than ever. But is she? Sometimes, only the direst need can teach us our own depths, and Sarai, the muse of nightmares, has not yet discovered what she's capable of.
As humans and godspawn reel in the aftermath of the citadel's near fall, a new foe shatters their fragile hopes, and the mysteries of the Mesarthim are resurrected: Where did the gods come from, and why? What was done with thousands of children born in the citadel nursery? And most important of all, as forgotten doors are opened and new worlds revealed: Must heroes always slay monsters, or is it possible to save them instead?
Love and hate, revenge and redemption, destruction and salvation all clash in this gorgeous sequel to the New York Times bestseller, Strange the Dreamer.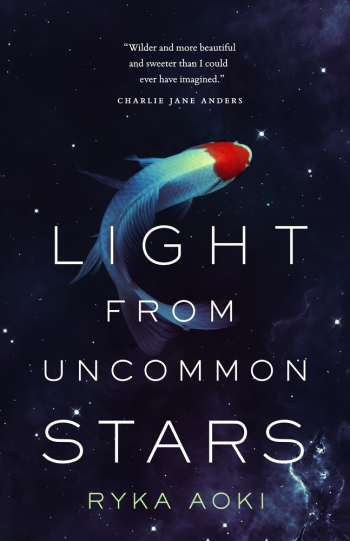 Light from Uncommon Stars by Ryka Aoki
A new science fiction/fantasy novel by Lambda Award finalist Ryka Aoki will be released on September 28 (hardcover, ebook, audiobook).
Good Omens meets The Long Way to a Small, Angry Planet in Ryka Aoki's Light From Uncommon Stars, a defiantly joyful adventure set in California's San Gabriel Valley, with cursed violins, Faustian bargains, and queer alien courtship over fresh-made donuts.
Shizuka Satomi made a deal with the devil: to escape damnation, she must entice seven other violin prodigies to trade their souls for success. She has already delivered six.
When Katrina Nguyen, a young transgender runaway, catches Shizuka's ear with her wild talent, Shizuka can almost feel the curse lifting. She's found her final candidate.
But in a donut shop off a bustling highway in the San Gabriel Valley, Shizuka meets Lan Tran, retired starship captain, interstellar refugee, and mother of four. Shizuka doesn't have time for crushes or coffee dates, what with her very soul on the line, but Lan's kind smile and eyes like stars might just redefine a soul's worth. And maybe something as small as a warm donut is powerful enough to break a curse as vast as the California coastline.
As the lives of these three women become entangled by chance and fate, a story of magic, identity, curses, and hope begins, and a family worth crossing the universe for is found.