The Leaning Pile of Books is a feature in which I highlight books I got over the last week that sound like they may be interesting—old or new, bought or received in the mail for review consideration. Since I hope you will find new books you're interested in reading in these posts, I try to be as informative as possible. If I can find them, links to excerpts, author's websites, and places where you can find more information on the book are included, along with series information and the publisher's book description. Cover images are affiliate links to Bookshop, and I earn from qualifying purchases.
I'm very excited about this week's featured book—it's one that appeared on my list of anticipated 2022 speculative fiction releases!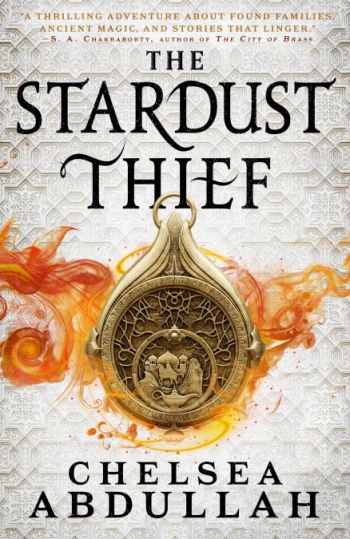 The Stardust Thief (The Sandsea Trilogy #1) by Chelsea Abdullah
Chelsea Abdullah's debut novel is scheduled for release on May 17 (hardcover, ebook, audiobook).
I've been looking forward to this epic fantasy book ever since reading Orbit's acquisition announcement, which includes this description:
Set in a world filled with dangerous jinn, magical artifacts, and shifting dunes, The Stardust Thief tells the story of a legendary smuggler and a cowardly prince who are forced to quest out across the desert in search of the long-lost city of the jinn and a magical lamp. Weaving together tales from One Thousand and One Nights, American-Kuwaiti author, Chelsea Abdullah has crafted an enchanting novel that feels both familiar and entirely new.
It had me on board after seeing it was a story about a smuggler and a cowardly prince inspired by One Thousand and One Nights, but it sounds even more fantastic from the official book description below. (She smuggles illegal magic! And it's in "a world where story is reality and illusion is truth"!)
Inspired by stories from One Thousand and One Nights, The Stardust Thief weaves the gripping tale of a legendary smuggler, a cowardly prince, and a dangerous quest across the desert to find a legendary, magical lamp.
Neither here nor there, but long ago…
Loulie al-Nazari is the Midnight Merchant: a criminal who, with the help of her jinn bodyguard, hunts and sells illegal magic. When she saves the life of a cowardly prince, she draws the attention of his powerful father, the sultan, who blackmails her into finding an ancient lamp that has the power to revive the barren land—at the cost of sacrificing all jinn.
With no choice but to obey or be executed, Loulie journeys with the sultan's oldest son to find the artifact. Aided by her bodyguard, who has secrets of his own, they must survive ghoul attacks, outwit a vengeful jinn queen, and confront a malicious killer from Loulie's past. And, in a world where story is reality and illusion is truth, Loulie will discover that everything—her enemy, her magic, even her own past—is not what it seems, and she must decide who she will become in this new reality.