This week's edition consists entirely of books received as birthday presents (which is also why this post is a day late – I was busy most of the weekend with birthday stuff).  There are supposed to be more birthday books on the way as well since some are coming from overseas, and my husband also pre-ordered A Dance with Dragons for me.  I'll have to be patient and wait until mid-July for that one!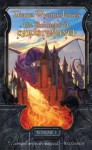 The Chronicles of Chrestomanci, Volume 1 by Diana Wynne Jones

This year my husband got me a lot of books by Diana Wynne Jones to symbolize that I can still be young at heart even if I'm getting older.  Some of them are coming from the UK and are not here yet since one of the ones he wanted to get me wasn't available here in the US.  Several of these are books he already had, but he's had them for so long and read them so many times that they are falling apart so he got new copies.  Since I've only read Dogsbody and Howl's Moving Castle by her so far, I'm looking forward to reading some of her other books, although it was also a little sad to receive them now due to her recent passing. The ones that did not come from overseas and were here on time were the 3 omnibus editions of the Chronicles of Chrestomanci.  This first volume contains the first two books, Charmed Life and The Lives of Christopher Chant.
In this multiple parallel universes of the Twelve Related Worlds, only an enchanter with nine lives is powerful enough to control the rampant misuse of magic—and to hold the title Chrestomanci…
The Chants are a family strong in magic, but neither Christopher Chant nor Cat Chant can work even the simplest of spells. Who could have dreamed that both Christopher and Cat were born with nine lives—or that they could lose them so quickly?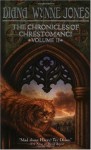 The Chronicles of Chrestomanci, Volume 2 by Diana Wynne Jones

The second volume contains books 3 and 4, The Magicians of Caprona and Witch Week.
In this multiple parallel universes of the Twelve Related Worlds, only an enchanter with nine lives is powerful enough to control the rampant misuse of magic — and to hold the title Chrestomanci…
There is a world in which the peaceful city-state of Caprona is threatened by the malevolent machinations of a mysterious enchanter…and another in which magic is outlawed and witches are still burned at the stake.
In two worlds the practice of magic has gone dangerously awry, there is only one solution — call upon the Chrestomanci.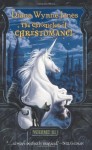 The Chronicles of Chrestomanci, Volume 3 by Diana Wynne Jones

The third volume contains the fifth and sixth books, Conrad's Fate and The Pinhoe Egg.  (If I had seen this book when I was a kid, I would have snatched it up just based on the cover.  A unicorn and cats?  Nine-year-old me would have been unable to resist it.)
In the multiple parallel universes of the Twelve Related Worlds, only an enchanter with nine lives is powerful enough to control the rampant misuse of magic—and to hold the title Chrestomanci. . . .
Cat and Christopher Chant make the most unusual friends. Christopher befriends a boy with terrible karma in a mansion where everything keeps changing. Cat meets a girl whose family of rogue witches is hiding shocking secrets. Will the Chrestomanci be able to sort out the tangle of mysteries and magic?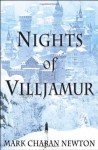 Nights of Villjamur by Mark Charan Newton

This is the first book in the Legends of the Red Sun series.  I've been wanting to read it for a while, but I'd been planning to wait for it to release in paperback this summer to pick it up.  So I was thrilled to get a copy now because I've heard so many great things about it, and seeing this post on the second book in the series and its themes yesterday just made me more excited about reading it. The second book in the series, City of Ruin, is available.  The Book of Transformations, the third book, will be released in June (and sounds awesome from the author's website – superheroes in an epic fantasy setting!).
Following in the footsteps of writers like China Miéville and Richard K. Morgan, Mark Charan Newton balances style and storytelling in this bold and brilliant debut. Nights of the Villjamur marks the beginning of a sweeping new fantasy epic.
Beneath a dying red sun sits the proud and ancient city of Villjamur, capital of a mighty empire that now sits powerless against an encroaching ice age. As throngs of refugees gather outside the city gates, a fierce debate rages within the walls about the fate of these desperate souls. Then tragedy strikes—and the Emperor's elder daughter, Jamur Rika, is summoned to serve as queen. Joined by her younger sister, Jamur Eir, the queen comes to sympathize with the hardships of the common people, thanks in part to her dashing teacher Randur Estevu, a man who is not what he seems.
Meanwhile, the grisly murder of a councillor draws the attention of Inspector Rumex Jeryd. Jeryd is a rumel, a species of nonhuman that can live for hundreds of years and shares the city with humans, birdlike garuda, and the eerie banshees whose forlorn cries herald death. Jeryd's investigation will lead him into a web of corruption—and to an obscene conspiracy that threatens the lives of Rika and Eir, and the future of Villjamur itself.
But in the far north, where the drawn-out winter has already begun, an even greater threat appears, against which all the empire's military and magical power may well prove useless—a threat from another world.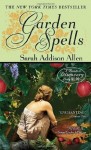 Garden Spells by Sarah Addison Allen

For some reason, I never heard anything about this New York Times bestseller, and then I started hearing a lot about it, especially with the release of Allen's latest novel, The Peach Keeper.  Now I keep hearing about it and it sounds both delightful and different from what I normally read so I'm really looking forward to it.
The women of the Waverley family — whether they like it or not — are heirs to an unusual legacy, one that grows in a fenced plot behind their Queen Anne home on Pendland Street in Bascom, North Carolina. There, an apple tree bearing fruit of magical properties looms over a garden filled with herbs and edible flowers that possess the power to affect in curious ways anyone who eats them.
For nearly a decade, 34-year-old Claire Waverley, at peace with her family inheritance, has lived in the house alone, embracing the spirit of the grandmother who raised her, ruing her mother's unfortunate destiny and seemingly unconcerned about the fate of her rebellious sister, Sydney, who freed herself long ago from their small town's constraints. Using her grandmother's mystical culinary traditions, Claire has built a successful catering business — and a carefully controlled, utterly predictable life — upon the family's peculiar gift for making life-altering delicacies: lilac jelly to engender humility, for instance, or rose geranium wine to call up fond memories. Garden Spells reveals what happens when Sydney returns to Bascom with her young daughter, turning Claire's routine existence upside down. With Sydney's homecoming, the magic that the quiet caterer has measured into recipes to shape the thoughts and moods of others begins to influence Claire's own emotions in terrifying and delightful ways.
As the sisters reconnect and learn to support one another, each finds romance where she least expects it, while Sydney's child, Bay, discovers both the safe home she has longed for and her own surprising gifts. With the help of their elderly cousin Evanelle, endowed with her own uncanny skills, the Waverley women redeem the past, embrace the present, and take a joyful leap into the future.