The Leaning Pile of Books is a feature where I talk about books I got over the last week – old or new, bought or received for review consideration. Since I hope you will find new books you're interested in reading in these posts, I try to be as informative as possible. If I can find them, links to excerpts, author's websites, and places where you can find more information on the book are included.
This week brought a few books in the mail, plus I received another book order containing some books published by Strange Chemistry that I want to read. As I mentioned previously, young adult speculative fiction publisher Strange Chemistry is no longer releasing books. Last week I talked about a couple of their other books I purchased, and I started reading Stolen Songbird by Danielle L. Jensen. I haven't wanted to put it down—it's every bit as good as I'd heard!
A couple of the books that showed up this week are ones that I already discussed:

The Assassin's Curse and The Pirate's Wish (The Assassin's Curse #1-2) by Cassandra Rose Clarke
This duology arrived in the aforementioned book order. I've heard they're very good, and it's a complete set although The Wizard's Promise, the first book in a related duology, was released a couple of months ago.
The Assassin's Curse and The Pirate's Wish are available in paperback and ebook, and there are also a couple of related short stories available in ebook (The Witch's Betrayal and The Automaton's Treasure). An excerpt from The Assassin's Curse is available online, and the description below is for this book since it's the first of the two.
Ananna of the Tanarau abandons ship when her parents try to marry her off to another pirate clan. But that only prompts the scorned clan to send an assassin after her. When Ananna faces him down one night, armed with magic she doesn't really know how to use, she accidentally activates a curse binding them together.
To break the spell, Ananna and the assassin must complete three impossible tasks–all while grappling with evil wizards, floating islands, haughty manticores, runaway nobility, strange magic…and the growing romantic tension between them.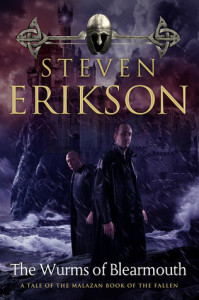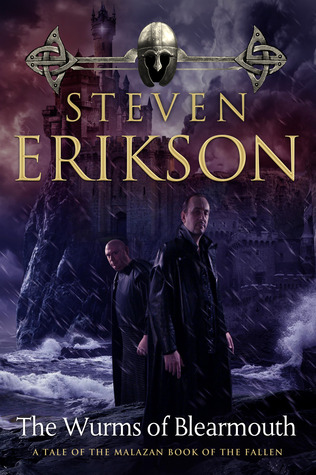 The Wurms of Blearmouth (The Tales of Bauchelain and Korbal Broach #5) by Steven Erikson
The Wurms of Blearmouth, which is supposed to take place after the end of the third Malazan Book of the Fallen novella The Lees of Laughter's End, will be released on July 8 (hardcover, ebook, trade paperback). An excerpt from The Wurms of Blearmouth is available on Tor.com.
I've read the first two of these novellas, Blood Follows and The Healthy Dead. They were very enjoyable, darkly humorous books, and neither took very long to read at all.
A new novella from New York Times bestselling author Steven Erikson, set in the world of the Malazan Book of the Fallen, The Wurms of Blearmouth.
Tyranny comes in many guises, and tyrants thrive in palaces and one-room hovels, in back alleys and playgrounds. Tyrants abound on the verges of civilization, where disorder frays the rule of civil conduct and propriety surrenders to brutal imposition. Millions are made to kneel and yet more millions die horrible deaths in a welter of suffering and misery.
But leave all that behind and plunge into escapist fantasy of the most irrelevant kind, and in the ragged wake of the tale told in Lees of Laughter's End, those most civil adventurers, Bauchelain and Korbal Broach, along with their suitably phlegmatic manservant, Emancipor Reese, make gentle landing upon a peaceful beach, beneath a quaint village at the foot of a majestic castle. There they make acquaintance with the soft-hearted and generous folk of Spendrugle, which lies at the mouth of the Blear River and falls under the benign rule of the Lord of Wurms in his lovely keep.
Make welcome, then, to Spendrugle's memorable residents, including the man who should have stayed dead, the woman whose prayers should never have been answered, the tax collector everyone ignores, the ex-husband town militiaman who never married, the beachcomber who lives in his own beard, the now singular lizard cat who used to be plural, and the girl who likes to pee in your lap. And of course, hovering over all, the denizen of the castle keep, Lord—Ah, but there lies this tale.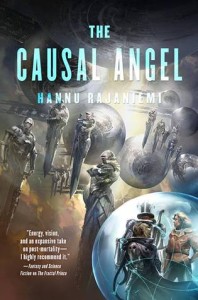 The Causal Angel (Jean de Flambeur #3) by Hannu Rajaniemi
The Causal Angel will be released on July 15 (hardcover, ebook). An excerpt is available on Tor.com.
The first two books in this series are as follows:
The Quantum Thief (Read an Excerpt)
The Fractal Prince
With his infectious love of storytelling in all its forms, his rich characterization and his unrivaled grasp of thrillingly bizarre cutting-edge science, Hannu Rajaniemi swiftly set a new benchmark for Science Fiction in the 21st century. Now, with his third novel, he completes the tale of the many lives, and minds, of gentleman rogue Jean de Flambeur.
Influenced as much by the fin de siècle novels of Maurice leBlanc as he is by the greats of SF, Rajaniemi weaves intricate, warm capers through dazzling science, extraordinary visions of a wild future,and deep conjectures on the nature of reality and story.
In The Causal Angel we will discover the ultimate fates of Jean, his employer Miele, the independently minded ship Perhonnen, and the rest of a fractured and diverse humanity flung throughout the solar system.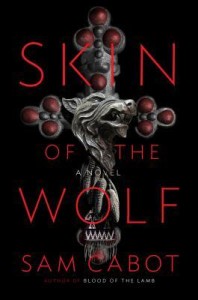 Skin of the Wolf by Sam Cabot
Skin of the Wolf, a sequel to Blood of the Lamb, will be released on July 31 (hardcover, ebook).
Sam Cabot is the pseudonym of Carlos Dews and S.J. Rozan. In Sam Cabot's exhilarating new novel, a vicious murder in Sotheby's begins a series of inexplicable events surrounding an Iroquois ritual mask—and a secret that could unleash the most terrifying chaos and destruction the world has ever seen.
Months after Father Thomas Kelly, art historian Livia Pietro, and scholar Spencer George found themselves racing through Rome in a desperate effort to locate and preserve an incalculably valuable docu-ment, the three are about to be reunited in New York City. Thomas, still trying to assimilate what he learned—that vam¬pires exist, and that Livia and Spencer are among them—is looking forward to seeing Livia again. Livia is excited to be allowed into the back room of Sotheby's for an exclusive viewing of an ancient Iroquois mask. And Spencer's in love. But before the three can meet, Spencer is badly injured when he's inexplicably attacked in Central Park—by a wolf.
That same night, a Sotheby's employee is found brutally murdered. Steps from her body is the mysterious native mask, undamaged amid the wreckage of a strug¬gle. As rumors begin to swirl around the sacred object, Thomas, Livia, and Spencer are plunged deep into a world where money, Native American lore, and the history of the Catholic Church collide. They uncover an alarming secret: The wolf is a shapeshifter, and the mask contains a power that, if misused, could destroy millions of lives with the next full moon.
In Skin of the Wolf, Sam Cabot masterfully blends historical fact, backroom conspiracy, and all-encompassing alternate reality as the Noantri discover they aren't the only humans set apart by their natures—there are Others.